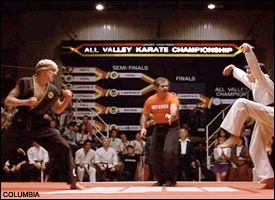 Welcome to SportsNation's first All-Valley Video Championship voting page!
The concept is very simple. We at SportsNation love karate, awesome viral videos and Ralph Macchio. So, obviously, we combined these three loves by entering 16 of the best videos ever featured on our show in a "Karate Kid"-style tournament.
We're reached the semifinals, and the outcome of the bracket is as mysterious as ever. Will "Pool Domination" continue to trample the competition, or will the littlest competitor of them all turn an own goal into an own championship?
Click on the links to view the videos, vote for your favorites, and then tune in to "SportsNation" at 4 ET on Wednesday on ESPN2 to see which video emerges from the bloodbath as the champion.
STRIKE FIRST. STRIKE HARD. NO MERCY.
SCROLL BELOW THE BRACKET TO CAST YOUR VOTE! (Don't screw this up)