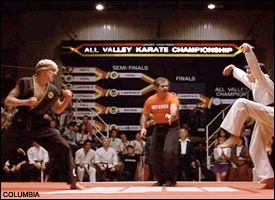 Welcome to SportsNation's first All-Valley Video Championship final!
The concept was simple. We at SportsNation love karate, awesome viral videos and Ralph Macchio. So, obviously, we combined these three loves by entering 16 of the best videos ever featured on our show in a "Karate Kid"-style tournament. Now, only two videos remain.
Pool Domination and Dude Perfect have taken on some of the best videos we've ever featured. Which one will be crowned SportsNation's Video of the Year? It comes down to your vote!
Will it be the Pool Domination kids who inspired countless copycat aquatic acrobats? Or will Dude Perfect be saying "Dude, Perfect!" after going a perfect 4-0 in the bracket?
Click on the links to view the videos, vote for your champion and then tune in to "SportsNation" at 4 ET on Wednesday on ESPN2 to see which video wins.
SCROLL BELOW THE BRACKET TO VOTE