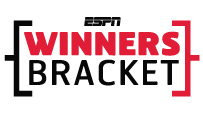 Welcome to Winners Bracket! Hosts Michelle Beadle and Marcellus Wiley will be bringing you a highlight showdown every Saturday at 5 p.m. ET on ABC as part of ESPN Sports Saturday!
A list of the 16 best sports highlights of the week will be put in a bracket and only the most eye-popping, jump-out-of-your-seat, "did you see that?" type clips will surely make it to the championship round.
Each week you can log on and cast your vote on the first-round matchups. Decide which highlights will make it to the Elite Eight and be sure to tune in at 5 p.m. ET on ABC to see how the bracket plays out!
Cast your vote now!