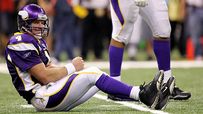 Are you going to sit Brett Favre this week?
Which fantasy football players should fans around the Nation start, and which should they sit?
With Michael Vick's insane Week 2 performance -- and the announcement that he will be starting under center for the Eagles full-time -- our Week 3 "Start 'Em or Sit 'Em" mailbag exploded with questions on what to do with him. Do you start him over Philip Rivers? What about over Jay Cutler?
Same thing goes with Brett Favre (except, for the opposite reason). With his dismal numbers against the Dolphins, many are wondering if it's time to pull Favre from their starting rotation, or give him another shot.
We've selected some of the most perplexing start or sit questions from around SportsNation. Now it's time for you to lend a hand and submit your own conundrums below!
Submit your own fantasy football Start 'Em or Sit 'Em question for Week 4!