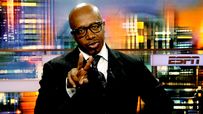 The chats of 2010 were so good that MC Hammer didn't make our Top 10.
What is the top SportsNation chat of 2010?
As the year 2010 quickly comes to an end, I, Buzzmaster, chat host here at SportsNation, wanted to take a look back at the year that was in chat land. In looking through the 4,000+ chats we have had this year, I found that we've had a lot of fun in 2010. We had Texas' Mack Brown stopping by, along with Zenyatta jockey Mike Smith, Clippers' Blake Griffin and Lions' Ndamukong Suh. We also dipped into music and movies a bit as we welcomed Michael Chiklis, Seth Meyers and Queen Latifah.
It was a tough task, but I narrowed things down to 10 of my favorite chats. Now, I'm asking you, SportsNation, to vote on these 10 to determine the top chat of 2010! And if you think we forgot a special guest chat, find it in our archive and attach it to the comments below!
Polls: What SportsNation got right ... | ... and what SN got wrong
Rank: What were the most memorable stories | Which teams excelled in 2010?
Vote:
Who were the best players in each sport?