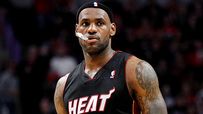 Hello Nation! We're playing the brand new on Tuesday's episode of SportsNation (4 p.m. ET, ESPN2)! The game is rather simple. We give you an athlete and you choose the descriptions that best fits his/her situation right now!
So cast your vote now, and then tune into the show to see which adjectives our hosts Colin and Michelle pick.
TODAY'S CHOICES: Dan Gilbert, LeBron James, Alex Rodriguez, Kevin Durant, Mike Tyson.