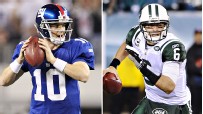 Which New York team are you picking in the Giants-Jets game?
How will the 16th week of the NFL unfold?
SportsNation's Week 15 record: 8-8
SportsNation's season record: 154-70
Last week's misses: Chiefs over Packers (95 percent), Colts over Titans (90 percent), Redskins over Giants (89 percent), Panthers over Texans (82 percent), Chargers over Ravens (76 percent), 49ers over Steelers (53 percent), Eagles over Jets (52 percent), Seahawks over Bears (51 percent).
Cast your votes below and see if your opinion is the same as SportsNation's!
All Week 16 games will be played on SATURDAY (Dec. 24) unless otherwise noted.