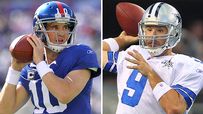 The Cowboys visit the Giants with the NFC East title on the line.
How will the final week of the regular season unfold?
SportsNation's Week 16 record: 12-4
SportsNation's season record: 166-74
Last week's misses: Broncos over Bills (81 percent), Redskins over Vikings (80 percent), Texans over Colts (61 percent), Chiefs over Raiders (51 percent).
Cast your votes below and see if your opinion is the same as SportsNation's!
All Week 17 games will be played on Sunday, January 1.