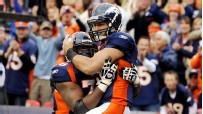 Will the Broncos beat the Steelers?
It came down to the wire but the playoff positioning is finally set!
Tim Tebow and the Denver Broncos will ride a three-game losing streak into their wild-card matchup against the defending AFC champion Pittsburgh Steelers. A game that will include a fumble-prone Tebow facing off against a Pittsburgh D that leads the league in total defense. On the other side of the bracket, the up-and-down Cincinnati Bengals will travel south to take on the injury-rattled Houston Texans.
Over in the NFC, Matt Stafford will lead the Detroit Lions into the Superdome to face a soaring New Orleans Saints team that hasn't lost a game at home all season. The New York Giants were the final team to clinch a playoff berth and will host the high-flying Atlanta Falcons.
Which teams will win in the first round of the NFL playoffs? Who do you have playing in the Super Bowl? Cast your vote now!