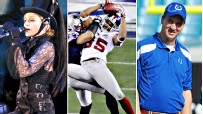 Nothing seems off limits when it comes to Super Bowl prop bets!
The Super Bowl is the grandest event in American sports, making it the perfect place to find people wagering on the most insignificant of minutiae. That's right, it's Super Bowl prop bets!
Will Madonna sport fishnet stockings at any point during the halftime show? How many times will David Tyree's helmet catch be replayed during the Super Bowl broadcast? And just how many times will we see Peyton Manning during the game? Just about every angle of Super Bowl XLVI has been studied and put under a microscope for you to make a choice that could have you celebrating an otherwise insignificant play or crying over a coin flip.
While we can't endorse putting your hard-earned money at risk, we do encourage you to put your opinions on the line in SportsNation's poll and give yourself a few more things to watch for Sunday night.
Below are actual prop bets from Bovada.com.