By Thomas Neumann
Page 2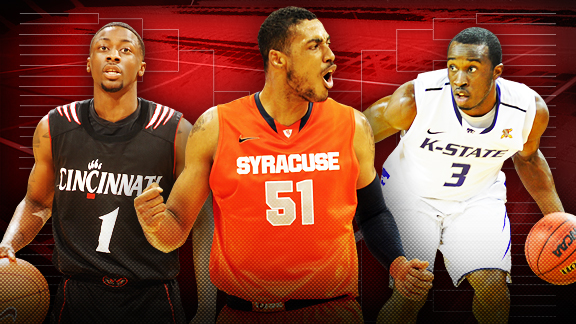 Page 2 is once again entrusting you, dear readers, to determine which player has the coolest name in the NCAA men's basketball tournament.
Our criteria for coolness are similar to how Supreme Court Justice Potter Stewart described obscenity in 1964: You know it when you see it. A great basketball name should be fun to say, fun to spell, or funky and unusual.
We've selected our 64 favorite player names from this year's NCAA tournament field for your balloting entertainment -- feel free to blame the selection committee if your school got snubbed.
Last year, Purdue guard Bubba Day captured the crown, completing an unlikely run as a No. 15 seed. This year's tournament is wide open, especially because prohibitive favorite God'sgift Achiuwa missed out on participating when St. John's failed to qualify for the Big Dance.
Without further ado, Page 2 presents the Coolest Name in the 2012 NCAA Tournament bracket.
Vote in the Dallas Comegys region at the bottom of this page, and use the links below to vote in the other regions. First-round voting ends Thursday at 10 p.m. ET. Check back Friday to vote in the second round.
GOD SHAMMGOD REGION | UWE BLAB REGION | RUBEN BOUMTJE-BOUMTJE REGION