By Thomas Neumann
Page 2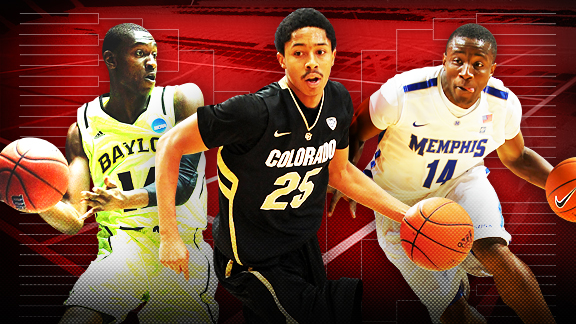 Welcome to the third round of Page 2's Coolest Name in the 2012 NCAA Tournament bracket.
To review: Page 2 is entrusting you, dear readers, with selecting the coolest player name in this year's NCAA men's basketball tournament from our bracket of 64 candidates.
The third-round ballot can be found at the bottom of this page.
Our criteria for coolness are similar to how Supreme Court Justice Potter Stewart described obscenity in 1964: You know it when you see it. A great basketball name should be fun to say, fun to spell, or funky and unusual.
The Ruben Boumtje-Boumtje and Uwe Blab regions are playing out as straight chalk, with one exception: No. 13 seed Spencer Dinwiddie of Colorado sprinting into the Sweet 16 with a win over No. 5 Tyrone Staggers of Lehigh.
There's less predictability over in the God Shammgod and Dallas Comegys regions, where three lower seeds have advanced to the Sweet 16: No. 7 Vander Blue of Marquette, No. 6 Festus Ezeli of Vanderbilt and No. 5 Shabazz Napier of UConn.
Vote in all four regions at the bottom of this page. Third-round voting ends Thursday at 10 p.m. ET. Check back Friday to vote in the regional finals.
• Click here to view the complete bracket and voting results