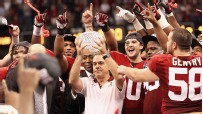 Will Alabama repeat as national champion this season?
How will the 2012 college football season play out?
Alabama will kick off the season with hopes of winning back-to-back national titles, but the SEC is strong from top to bottom and the Crimson Tide will have plenty of challenges along the way. After serving a two-year bowl ban, USC wants its name heard among championship-contending teams, and with the talent the Trojans have, it definitely will be.
Make your picks below for each conference and vote for the team that will hoist the national championship trophy in January.
Conference rankings: ACC | Big 12 | Big East | Big Ten | Pac-12 | SEC
Player rankings: ACC | Big 12 | Big East | Big Ten | Pac-12 | SEC
More: SportsNation's top 25 | Rank conferences | Rank Heisman hopefuls