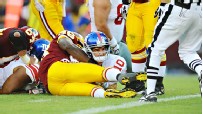 Will the Redskins defeat the Giants for the third straight time?
How will the seventh week of the NFL season unfold?
The Giants didn't have much success against the Redskins last season, losing both games by a total of 27 points. This season New York and Washington have the league's second- and third-ranked offenses respectively, but which team will come out with a much-needed NFC East victory?
The Ravens will be without their defensive and emotional leader in Ray Lewis, who is sidelined for the rest of the season with a torn triceps. Will Baltimore's tenacious D suffer without his veteran leadership against Houston?
Cast your votes below to see how your picks compare to SportsNation!
All games Sunday unless noted.
SportsNation's Week 6 record: 5-9
SportsNation's season record: 52-40