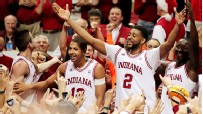 Will the Hoosiers win their first national championship since 1987?
How will the 2012-13 college basketball season unfold?
Kentucky will tip off the season with hopes of winning back-to-back national titles, but the road to Atlanta won't be a straight shot. Indiana, anchored by Christian Watford and player of the year aspirant Cody Zeller, has a No. 1 preseason ranking for the first time since the 1979-80 season, while a reloaded Louisville squad looks to make a second straight Final Four appearance.
Make your picks below for each conference and vote for the team that will hoist the national championship trophy in April.
Conference rankings: ACC | A-10 | Big 12 | Big East | Big Ten | C-USA | Mountain West | Pac-12 | SEC | West Coast
More rankings: Point guards | POY hopefuls | SN's top 25 | Conferences