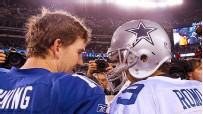 Will the Giants beat the Cowboys on the road for a fourth straight time?
How will the eighth week of the NFL season unfold?
The Giants didn't fare well at home against the Cowboys in the season opener, losing 24-17. But the Giants have posted three straight road victories against Dallas. Will the streak stay intact when they meet Sunday afternoon at Cowboys Stadium?
The Falcons and Eagles should be well-rested as both teams are coming off a bye week. Will the break be detrimental to Atlanta's momentum? Was the week off
just what Philadelphia needed to refuel and get going?
Cast your votes below to see how your picks compare to SportsNation!
All games Sunday unless noted.
SportsNation's Week 7 record: 12-1
SportsNation's season record: 64-41