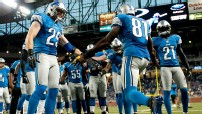 Will the Lions earn their first Thanksgiving Day win since 2003?
How will the 12th week of the NFL season unfold?
As tradition dictates, the Lions will participate in the NFL's Thanksgiving Classic, and this year they will face the AFC-leading Texans. Will Detroit snap its eight-game turkey day losing streak, or will Houston extend its unbeaten road record?
The 49ers are coming off a dominating defensive performance in a rout over the Bears. Will San Francisco and the league's second-best defense stop the
Saints' three-game win streak?
How will it all shake out? Cast your votes below!
All games Sunday unless noted.
SportsNation's Week 11 record: 13-1
SportsNation's season record: 106-54-1