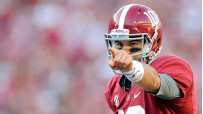 Will Alabama or Georgia win the SEC championship game?
How will Week 14 of the college football season unfold?
SportsNation's Week 13 record: 11-7
SportsNation's season record: 212-44
A spot in the BCS Championship Game is on the line, as the winner of the Alabama-Georgia game will travel to Miami to take on Notre Dame for the right to hoist the Coaches' Trophy.
Nebraska overcame a 17-point deficit to defeat Wisconsin in their regular season matchup, but what will happen when the two meet in the Big Ten championship game? Vote on these and other Top 25 matchups below!
For more, check out College GameDay on Facebook or follow it on Twitter and play College Pick 'Em! All games Saturday unless otherwise noted.