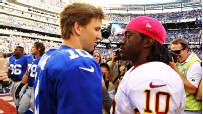 Will the Giants sweep the Redskins for the fourth time in five seasons?
How will the 13th week of the NFL season unfold?
It's an NFC East rivalry weekend. The Redskins swept the Giants last season, but will the rejuvenated G-Men pay back the favor in their trip to Washington? The Eagles beat the Cowboys in two of their past three regular-season meetings at Cowboys Stadium. Will Dallas even the score and extend Philadelphia's losing streak?
How will it all shake out? Cast your votes below!
All games Sunday unless noted.
SportsNation's Week 12 record: 11-5
SportsNation's season record: 117-59-1