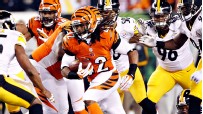 Will the Steelers beat the Bengals for the sixth straight time?
How will the 16th week of the NFL season unfold?
The Ravens have secured a place in the playoffs, but division rivals Cincinnati and Pittsburgh have not, and they meet Sunday. Will the Bengals (8-6) keep their lead over the Steelers (7-7)? Cincinnati hasn't beaten Pittsburgh since sweeping the 2009 season series.
The NFC East is the only division in which a team has not clinched a playoff spot, and since three teams are tied with an 8-6 record, the final two weeks should be very interesting.
What will the Cowboys, Giants and Redskins do in Week 16?
How will it all shake out? Cast your votes below!
All games Sunday unless noted.
SportsNation's Week 15 record: 10-6
SportsNation's season record: 148-76-1