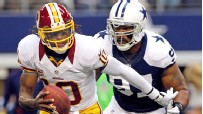 Will the Redskins go 2-0 against the Cowboys this season?
How will the 17th week of the NFL season unfold?
It's a winner-take-all showdown as the NFC East title will be on the line Sunday night in the nation's capital. The Cowboys need a victory to make the playoffs, but Dallas is 2-10 since 2000 in Week 17 games. So will it be the Redskins taking home the division title for the first time since 1999?
AFC playoff teams are set, but home-field advantage is still at stake for the Texans, Broncos and Patriots. Which
team will be victorious and clinch home games throughout
the postseason?
How will it all shake out? Cast your votes below!
All games Sunday.
SportsNation's Week 16 record: 11-5
SportsNation's season record: 159-81-1