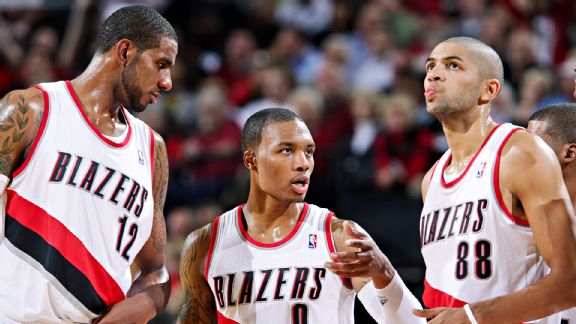 Sam Forencich/NBAE/Getty ImagesThe Portland Trail Blazers are thinking about a new uniform. Let's help them out!
In case you missed the word last week, the Portland Trail Blazers are working on a uniform redesign. The new uni would be slated for the 2015-16 season, but why wait that long? Let's have our own Blazers redesign contest.
The rules are as follows: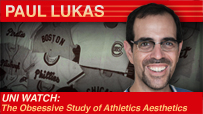 • Your entry must include a new primary logo and at least three uniform designs -- home, road, and alternate. (If you like, you can also include secondary logos and additional alternate uniforms, but those aren't required.)
• Your designs can be created in any digital or analog medium (Illustrator, Photoshop, crayon, whatever) and can be submitted in any standard digital format (JPG, PDF, tiff, etc.).
• Please include your name and email address somewhere on the image, like this. Also, your image file names should include your full name (example: Paul Lukas.jpg). If you're submitting multiple files, please either number them (Paul Lukas1.jpg, Paul Lukas2.jpg, etc.) or use some other designation (Paul Lukas-home.jpg, Paul Lukas-road.jpg, etc.).
• You can use the Blazers' current team colors or give them a new color scheme. But in keeping with long-standing Uni Watch chromatic policy, entries showing even a hint of the color purple will not be accepted.
• Email your entry to uniwatching@gmail.com. If you have more than one concept, feel free to enter as many times as you like.
• Deadline: Monday, Dec. 9, 7 p.m. ET.
For some inspiration, check out the winners of our Miami Dolphins redesign from March and Charlotte Hornets redesign in June.
The winning entries will be showcased in a Uni Watch column in December. Get crackin'!