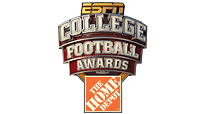 The college football season is winding down, which means it's almost time to start handing out some hardware. The finalists in categories like player of the year, best quarterback, best running back and best defensive player have been chosen, and now we're giving you a vote. Read up on the accomplishments of each of the three finalists for nine major awards, then pick the player you think should win.
We start with the Maxwell Award, which is given annually to the best all-around player in college football. Whoever wins this year will join some exclusive company. In the past, players like Manti Te'o (2012), Andrew Luck (2011), Cam Newton (2010), Colt McCoy (2009) and Tim Tebow (2008 and 2007) have taken home the trophy. Newton and Tebow (in 2007) also both went on to win the Heisman Trophy.
To find out the official winners of college football's major awards, tune in to "The Home Depot College Football Awards" show live on ESPN at 7 p.m. ET on Dec. 12. Chris Fowler, Lee Corso, Kirk Herbstreit, Desmond Howard, Tom Rinaldi and Samantha Ponder will host the show, which will originate from the Atlantic Dance Hall on Disney's Boardwalk at the Walt Disney World Resort in Lake Buena Vista, Fla.
More: Bednarik | Lou Groza | Outland | Biletnikoff | Ray Guy | Walker | O'Brien | Thorpe
The Maxwell Award nominees

Johnny Manziel: The Texas A&M quarterback and Heisman winner faced a tall task this season, trying to build on a near perfect 2012 campaign. He has succeeded in putting up similar eye-popping numbers, despite suffering four losses on the year. Manziel might not win the Heisman again, but NFL scouts are surely intrigued by his 33 passing touchdowns and eight rushing touchdowns.


AJ McCarron: The Alabama senior just continues to win games and set records. McCarron became the Crimson Tide's all-time winningest quarterback in a 49-0 clobbering of Chattanooga in November. He has thrown a touchdown pass in all but one game this season, has just five interceptions to 26 touchdowns, and ranks eighth in the nation in passing efficiency. The only blemish? That improbable Iron Bowl loss to the Auburn Tigers.


Jameis Winston: A redshirt freshman, Winston has Florida State fans dreaming of another championship with his inspired play. Despite playing a full four quarters only four times this season, Winston has thrown multiple touchdown passes in all but one game and had more than 200 yards passing in all but two. He saved perhaps his best performance for the biggest game of the season, a 51-14 smackdown of the then-No. 5 Clemson Tigers.