You might not have noticed amid the Alabama/Florida State/Ohio State jockeying and the numerous big games for big schools, but a certain Jordan Lynch -- who led his Northern Illinois Huskies to an Orange Bowl berth a season ago -- is playing better than ever. His latest exploit: running for 321 yards in a snowy 33-14 win over Western Michigan on Tuesday night, breaking his own record for most rushing yards in a game by an FBS QB.
With Johnny Manziel sputtering (if only slightly) and controversy surrounding Jameis Winston, can a QB from a small school -- one whose team entered the week ranked 14th in the BCS standings -- make a legitimate run for the Heisman Trophy?
---
DeKalb domination
Held to just 39 passing yards Tuesday, he still has thrown for more than 2,450 -- along with 1,755 rushing yards (and 42 total TDs).

---
BCS-bound?
NIU is two spots ahead ahead of fellow non-AQ Fresno State, and needs only a top-16 finish if it stays in front of the AAC champ (UCF is 19th).

---
National Football Lynch?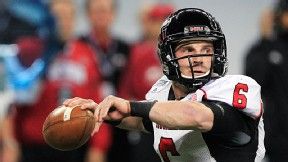 Mel Kiper and Todd McShay say Lynch might have to change positions in order to make it in the NFL.