When ashes -- possibly human -- were discovered Monday at Jordan-Hare Stadium, Auburn associate professor Scott McElroy said that sort of thing happens "a lot more than you think." This raises two points: First, someone in the crowd must have been confident that the Tigers were going to beat Alabama, giving fans the chance to rush the field. Second: Just how often is "more than you think"? Either way, when we think about the possibility of being united for all eternity with a stadium and the team that plays there, we're torn between "romantic sentiment worth pursuing" and "very bad idea."
---
Final wishes?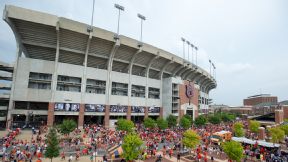 Would you want your favorite team's home to be your eternal home, too?

---
Win one before it's too late
Some sports fans have been rewarded for their patience with a championship. Others are still waiting for that elusive moment.