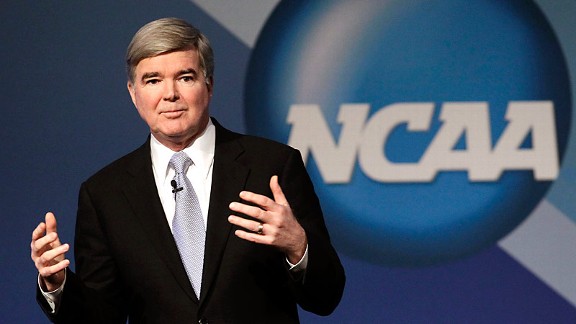 AP Photo/Darron Cummings
The idea of paying college athletes for their time at a school's athletic program has been brought up with greater frequency lately, but NCAA president Mark Emmert is not budging from his opposition to the idea. Emmert said that there was "no interest" in bringing a professional or semi-professional element to college sports, and further claimed that pay-for-play would drastically affect recruiting. Scholarships go part of the way toward compensating college athletes for their play, but are they really enough?
Here's a sampling of what readers had to say in our Facebook conversation on the story:
Bryan Haupt: "YES THEY SHOULD!! All these schools make money off their jerseys and everything and these kids don't get anything!"
George Snowling: "can't we just give every major div 1 athlete a couple hundred a week? that way it doesnt become a recruiting tool and it still gives them a little extra for living expenses."
Phil Stephens: "There aren't any athletic departments that can afford to pay players anyway. All but a few (4 or 5, I believe) operate on a loss every year. What they should do is simply allow players to make money from their own images and names."
Mason Wesley Lloyd: "Now would be a good time for some billionaire to come in and start a '"developmental league." We haves ones for hockey and baseball that work quite well. Why not for football and basketball?"
Edward Kell: "If they won't get paid to play, don't expect me to pay to watch."
Beau Coit: "Pay for Play won't work because the schools like Alabama, USC, Texas, Florida, UCLA etc. will be able to pay for the best players and it will be the same 10 teams competing for titles every season. Too many schools lose money on athletics and would get all the leftovers from the big-time programs."