Watch out, America. The Seattle Seahawks might have just become more dangerous, with wide receiver Percy Harvin set to return Saturday in their home divisional playoff game against the New Orleans Saints. That's right: A team that went 13-3 -- including a 34-7 home win over those very Saints in December -- is adding a dynamic receiver/return man, one whose heralded move from the Minnesota Vikings to the Pacific Northwest thus far has yielded just one game and one catch. But with his hip injury in the rearview mirror, this NFC title favorite might have seen its odds improve even more.
Here's a sampling of what readers had to say in our Facebook conversation on the story:
Meron Foto: "NFC defenses better be on notice after this news. Stacking the box won't cut it to stop Hawks offense if Harvin is lined up on the opposite side of the field. Can't wait to see how Hawks will use him. Mannnn this weekend gonna he (sic) EPIC!!!"
Mike Foley: "This is great for Lynch and the run game. NO was extremely good against the run in the first game...Harvin's presence should open it up some...especially with him in the slot and in the backfield. Harvin has a gear that no other player on the field has, great to see him on the team finally! Not sure what will happen but this certainly doesn't hurt."
Jon Morris: "The question is can the Saints kick touch backs in the Seattle weather? I am gonna go with a negative."
Philip Davila: "I don't think enough people are considering the possibility that trying to shoe horn a player who probably is still injured into an important game when he hasn't played all season except one game could backfire horribly on the Seahawks. Harvin is a great player, but he is not going to be a difference maker in this game."
Andy P Kordyban: "Will Sean Payton now have a cardboard cutout of Harvin running around the field to mimic even more what C-Link stadium will be like"
---
Helpful Harvin vs. Saints and beyond?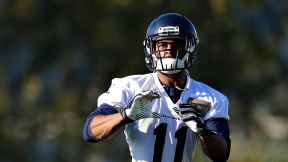 In his career Harvin has 20 receiving TDs, five kickoff return TDs and four rushing TDs.