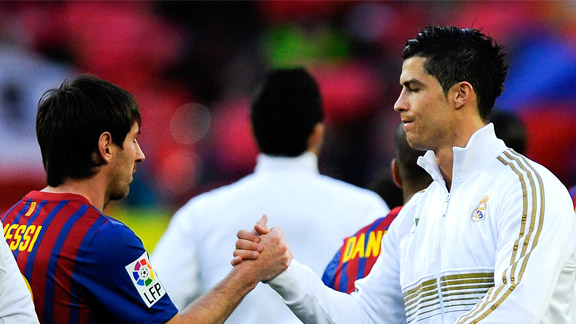 David Ramos/Getty ImagesCristiano Ronaldo leads La Liga in goals, while Lionel Messi has fought injuries this season.
As perhaps the finest player ever to set foot on a pitch, Pele has a great deal of experience behind his opinions on the modern game. When asked to compare Cristiano Ronaldo and Lionel Messi -- two other players who may at the end of their careers be in the discussion for Greatest of All Time -- Pele said that Ronaldo currently has the upper hand over Messi. He wasn't exactly putting Messi down, noting his injuries as a major factor for considering Ronaldo to be better, but that might not matter to Messi loyalists. This might also be a case of familiarity breeding something less than contempt -- when asked to choose who he'd rather play with, Pele said Ronaldo, because he considered Messi and himself to be too similar in terms of playing style.
Below is a sampling of the Facebook conversation on the story. Be sure and join in!
Mrinal Gupta: "This coming from a guy who a while back said Neymar was better than Messi ( when he was playing for Santos). There is nothing but jealousy on his part to say this, he knows Messi is the only one that can dethrone him as the Greatest Ever in due course of time, one world cup win and it will be almost unanimous that Messi is the best ever. Ronaldo, on the other hand, is never even compared to Pele and Maradona, he's always been compared to Messi (benchmark for last 5 years)."


Chris Garcia: "Until Messi plays at a high level for his country or plays in a league that isn't dominated by the same two teams year in and year out, there will always be questions as to how he performs at the highest level. Champions League is great, but when you have a loaded team that makes the knockout stages every year because their league lacks the quality of the EPL, Bundesliga, and Serie A, there will always be people questioning how good Messi really is. One of the 5 best ever already but Messi needs to carry Argentina or play in a stronger league to go down as the best of all time."


Wole Osibudo: "Pele was better off staying out of this debate truly.... We all know that when Messi is in true form, he is a more prolific scorer than Ronaldo, a better passer and he seems to rove the field better/more than Ronaldo does. Ronaldo won the award really because Messi is not fully healthy and did not play the full year. No one is diminishing Ronaldo's abilities, but Messi is better."


Jerry Udogu: "Ronaldo has a better physique,can score more using d head,can shoot better and harder,scores free kicks more regularly,has a greater pace and finesse.. He is far better than Messi."


Cole Dahle: "When will people get it through their skulls that the Messi-Ronaldo debate is a moot point. They are DIFFERENT players who play in DIFFERENT systems with radically DIFFERENT styles. If you put Ronaldo on Barca and Messi on Real, neither player will reproduce the kind of form they are capable of."