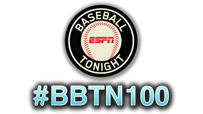 How do the top designated hitters in Major League Baseball stack up? That question has been answered by our experts in the latest installment of the "Baseball Tonight" 100 (#BBTN100), a project to rank the top players across all 30 teams. We'll reveal a new position each day and unveil the overall 1-100 rankings March 27.
Do you agree with the experts' take on designated hitters? Simply click on the images of the top five below to submit your ballot.


Rank: #BBTN100 Designated Hitters
David Ortiz

David Ortiz
Boston Red Sox
BBTN Rank: 1
Albert Pujols

Albert Pujols
Los Angeles Angels
BBTN Rank: 2
Billy Butler

Billy Butler
Kansas City Royals
BBTN Rank: 3
Victor Martinez

Victor Martinez
Detroit Tigers
BBTN Rank: 4
Kendrys Morales

Kendrys Morales
Seattle Mariners
BBTN Rank: 5
Your Rankings
1.

2.

3.

4.

5.