Floyd Mayweather dispatched his latest challenger Marcos Maidana Saturday night, running his record to 46-0. We already know what he thinks of his legacy, letting his hat say it all: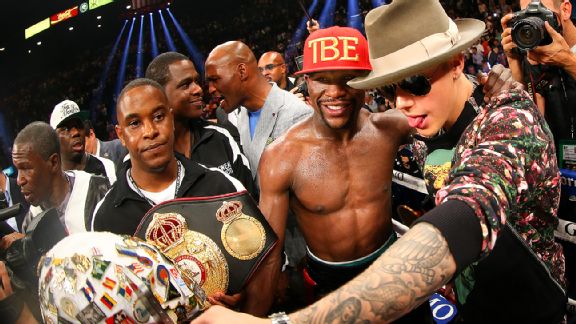 Ed Mulholland/Golden Boy/Getty Images
The "TBE" stands for "The Best Ever." However, it seems Mayweather has yet to convince some boxing legends, who still want to see The Fight That May Never Be Made.
Congratulations @FloydMayweather. Maybe after you rest up we can see you rumble with @MannyPacquiao! #AliTweet

— Muhammad Ali (@MuhammadAli) May 4, 2014
Yeah, that's the G.O.A.T. calling out Floyd "TBE" Mayweather. But Ali wasn't alone. Lennox Lewis also is calling for the fight.
Honestly the only fight I want to see for Mayweather is Pacquiao! #TheGrandFinale

— Lennox Lewis (@LennoxLewis) May 4, 2014
UPDATE: Former champion "Golden Boy" Oscar De La Hoya had tweeted his opinion on Mayweather's legacy, saying "I watched several fights again and Floyd should be 43-3 have a great Sunday," but he has since deleted his tweet.