Sure, you love your favorite team. But do you love it enough to bleed for it?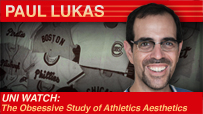 Lots of Uni Watch readers can answer that question in the affirmative, because they've gotten tattoos of their favorite teams' logos.
It might seem like a bit of an extreme gesture. But hey -- friends come and go, jobs come and go, sometimes even spouses come and go, but the bond between fan and team is eternal.
Or at least that's the idea.
Here are a dozen of those inked-up Uni Watch readers and their team-logo tats:
The Brewers' old Barrel Man mascot is one of the best logo characters ever. And as emblazoned on Dan Ullsperger's chest, it's also one of the best sports-centric tattoos.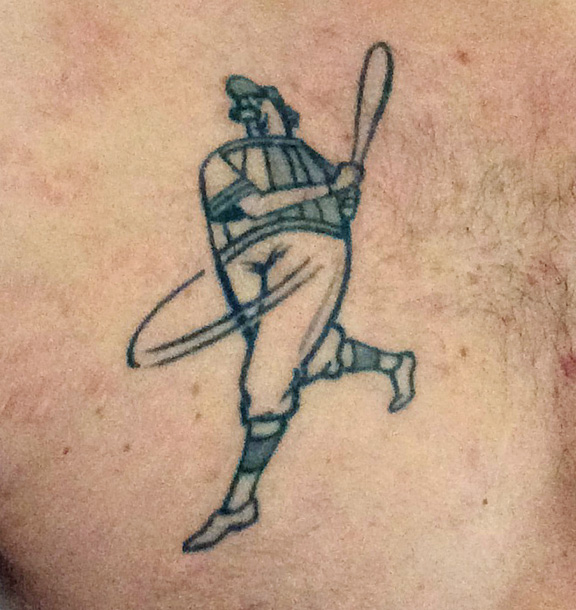 Courtesy of Dan Ullsperger
Arkansas athletics just got a branding makeover last month, but nothing in the new visual package can hold a candle to the sweater-clad razorback on Kyle Gibbins' leg. "It was a graduation present from my wife when I received my second degree from Arkansas in 2012," he said.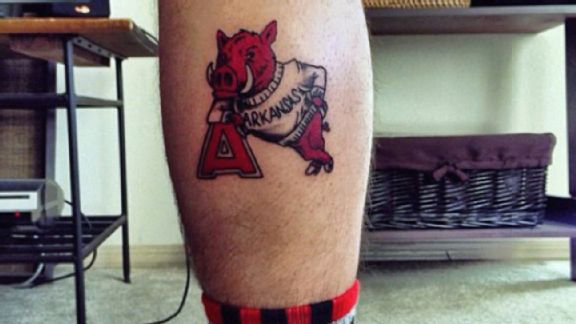 Courtesy of Kyle Gibbins
Why settle for only one of your favorite teams' logos when you can have all of them? That was the approach taken by Pittsburgh fan Brian Skokowski, who decided to honor the Penguins, Pirates, and Steelers -- along with the Steel City skyline -- on his leg.
Courtesy Brian Skokowski
Terence Kearns took things to another level by getting a tattoo of the Mets' road-jersey lettering. "Say what you want about the black drop shadow, but I love my Mets ink," he said. Now if he'd just gotten it across his chest instead of on his forearm!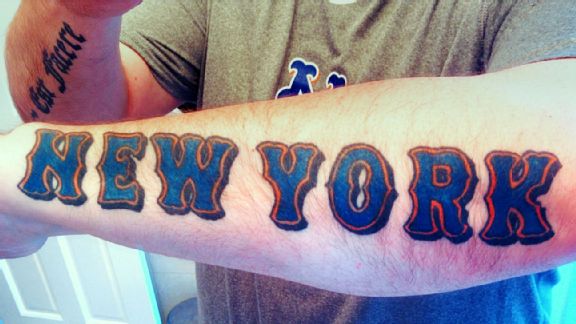 Terence Kearns
NBA players have lots of tattoos, but not many fans seem to have NBA team-logo tats. One exception: this Cavs logo worn by Derrik Clark. "I got it done in 2004, LeBron's second year in the league," he said. "It's too bad they went away from that logo and uni design, but maybe they'll bring them back when LeBron comes back to Believe-land next year!"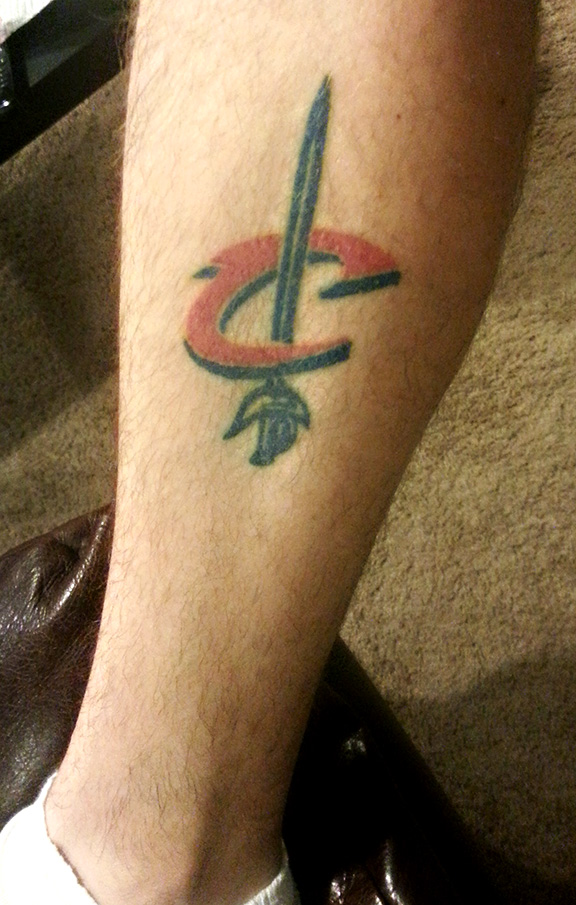 Courtesy of Derrik Clark
Many New England fans still like Pat Patriot better than Flying Elvis. That group includes Derek Hannan, who said, "I'm fairly confident that it's one of the best logos in the history of sports."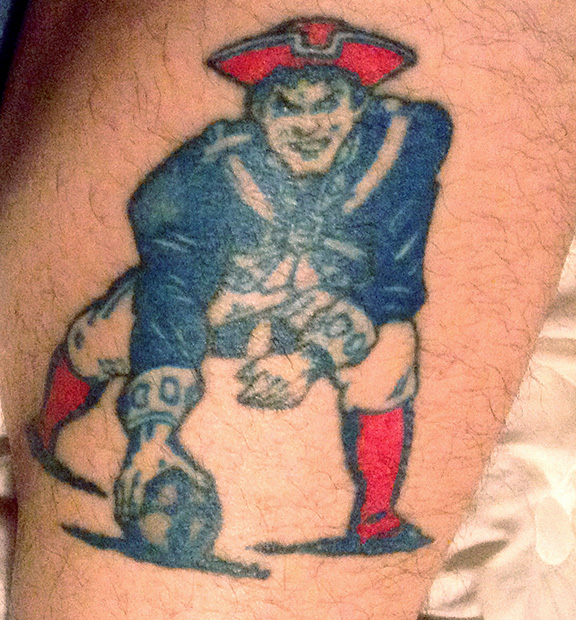 Courtesy of Derek Hannan
Anyone who shakes hands with Matthew Fortson gets a good view of his Georgia Bulldogs-logo tattoo.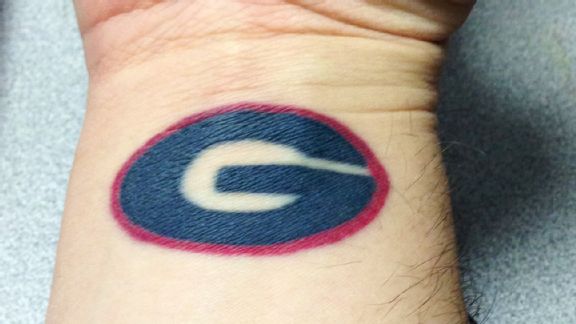 Courtesy of Matthew Fortson
What do you do if you're a Twins fan whose initials happen to be "TG"? If you're Tony Gosse, you personalize the Twins' "TC" logo by modifying one of the letters.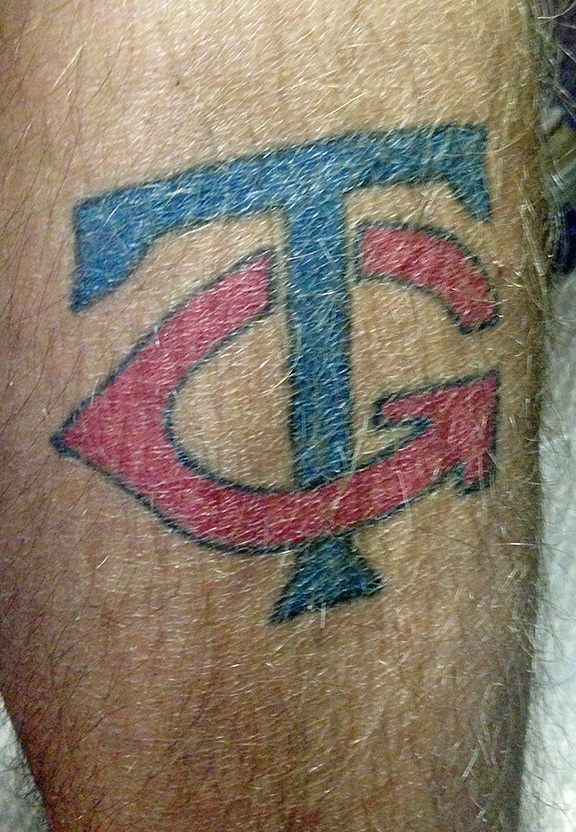 Courtesy of Tony Gosse
The Phillies haven't used this script since 1991, but it still looks great on Tim Flynn's arm. "I got it in September 2009, just before they lost the World Series to the Yankees," he said.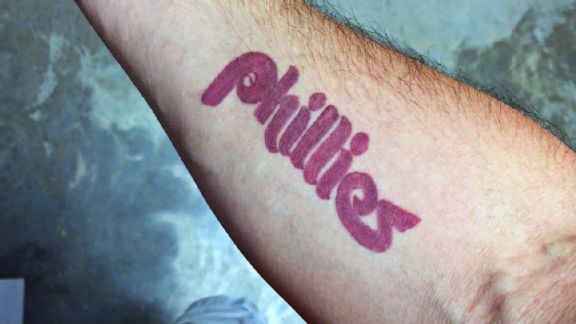 Courtesy Tim Flynn
Cartoon mascots make for great tattoos. Case in point: this old-school Orioles treatment on John Fonte's arm. "The logo was designed by James Harzell of The Baltimore Sun," Fonte said. "He drew his first cartoon Oriole for the franchise owners when the team arrived in Baltimore in 1954."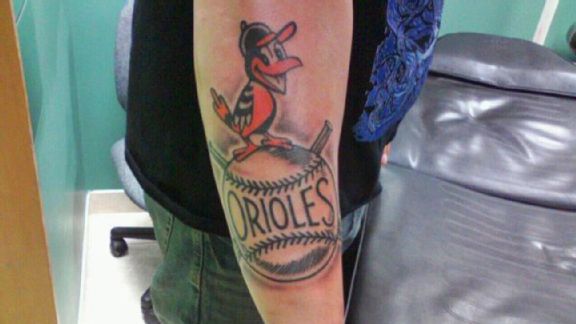 John Fonte
Quite a few readers have gotten the Red Sox's "hanging socks" logo inked onto their bodies, including BoSox die-hard James Smith. "I got it years ago, before they started winning," he said.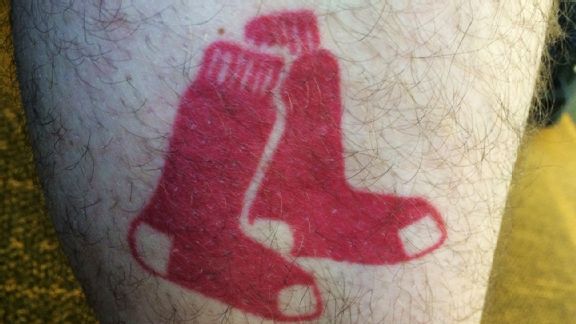 Courtesy of James Smith
The Texas Rangers have never been able to decide whether their primary color is red or blue. Ryan Campbell solved that problem by incorporating both colors into his Rangers-logo tattoo.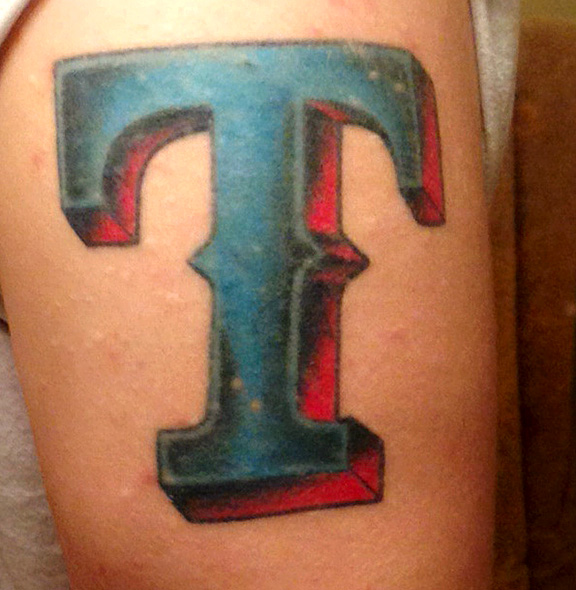 Courtesy of Ryan Campbell
Do you have a tattoo of your favorite team's logo? Send your tattoo photos here and we'll consider featuring them in a follow-up column.
Paul Lukas has two tattoos, but neither one of them is of a sports logo (although he has considered getting the Louisville Slugger "Powerized" logo on his inner forearm). If you liked this column, you'll probably like his Uni Watch Blog, plus you can follow him on Twitter and Facebook. Want to learn about his Uni Watch Membership Program? Be added to his mailing list so you'll always know when a new column has been posted. Or just ask him a question: Contact him here.