Designers and design-oriented people love to say, "Less is more."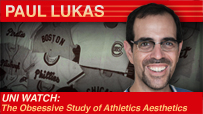 Sometimes, though, more is more. For example, we recently ran a column showcasing Uni Watch readers who'd gotten tattoos of their favorite teams' logos. Most of the tats were very simple -- just the logo, no frills, no extras.
That led to a flood of submissions from readers who wanted to show off their own team logo tattoos, many of which are much more elaborate than the ones we showed last time around. Here are 10 of the best:
---
The Lions are one of four NFL teams that have never appeared in (much less won) the Super Bowl, but that didn't stop Eric Usewick from incorporating the Lombardi Trophy into the Lions tattoo that's emblazoned across his back.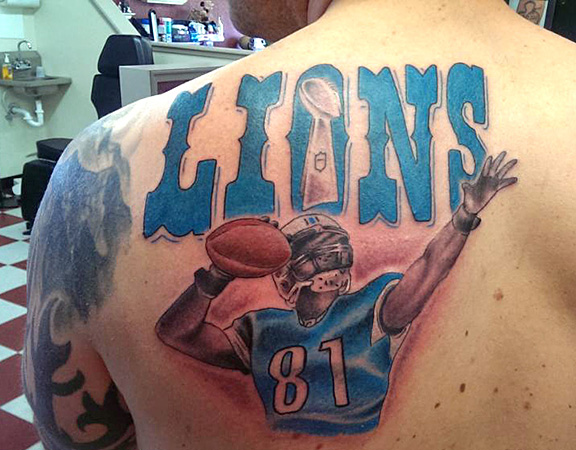 Courtesy Eric Usewick
The Tampa Bay Buccaneers have never looked more fearsome than they do on Chad Wachholz's arm. And no sign of those new digital alarm clock uniform numbers, either!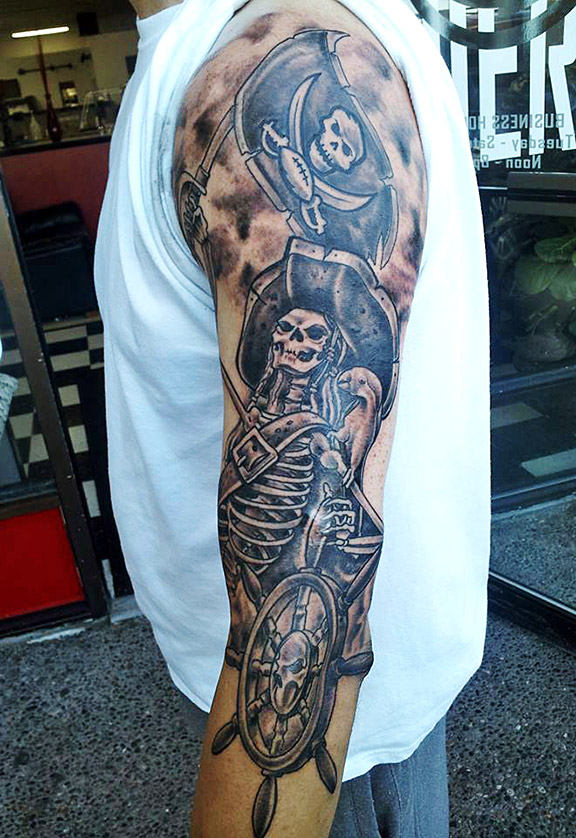 Courtesy of Chad Wachholz
Man, some serious detailing went into the rendition of Dodger Stadium on Fernie Martinez's back. "I do it for the love I have for this organization and its rich history," he says. Sounds good, but just one problem: The "LA" logo in the outfield is facing away from the grandstand, so it would appear upside down to the fans!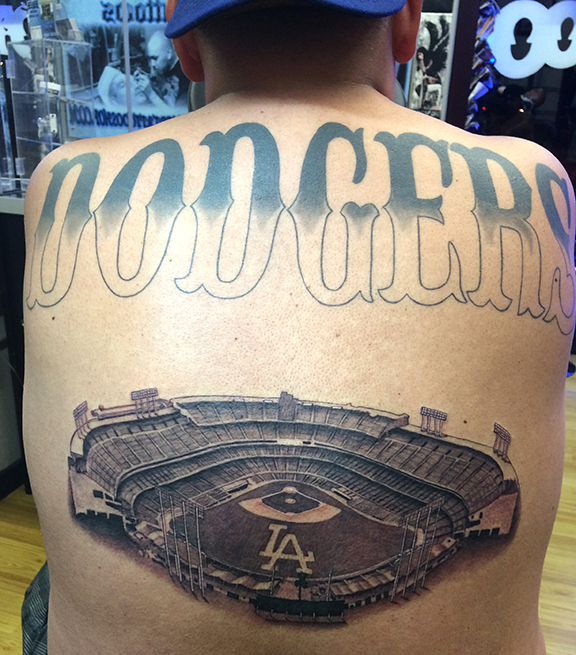 Courtesy Fernie Martinez
Several fans sent in composite photos to show their wraparound tattoos, none better than the Loren Nichols' Seahawks treatment, which is enhanced by the Seattle skyline.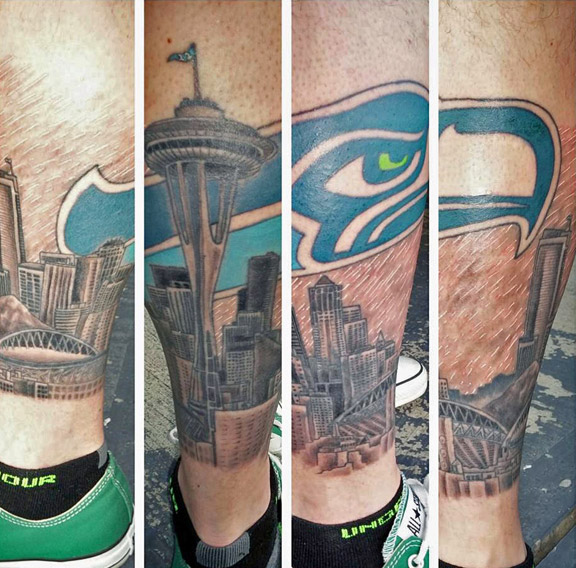 Courtesy Loren Nichols
Clever move by Mike Moran, who managed to incorporate the logos of four different Boston-area teams -- the Red Sox, Pats, Celtics and Bruins -- into one mash-up tat design.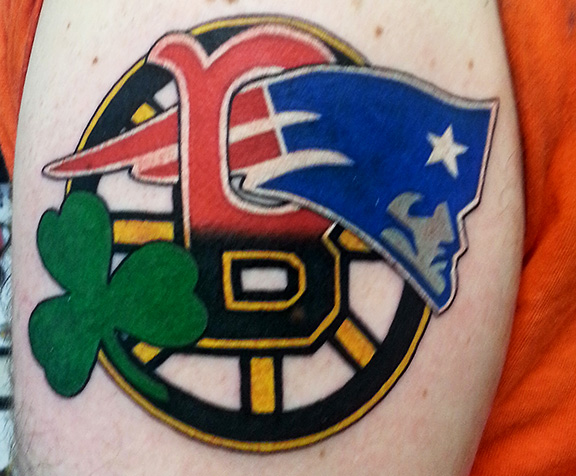 Courtesy Mike Moran
Sometimes it doesn't take much to enhance a logo. Case in point: The little cheesehead crown perched atop Thomas Laning's Packers logo, which look great on his right shoulder blade.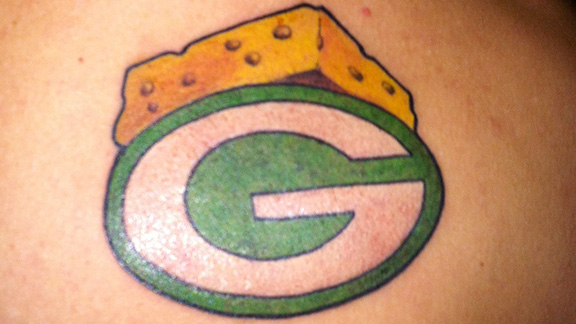 Courtesy Thomas Laning
OK, so this one is cheating a bit because it's not team-oriented, but it's still based on a very recognizable sports-related logo and a great concept: Tyler Kulasza adapted Converse's famous Chuck Taylor logo design to honor his dad, John Kulasza, who passed away when Tyler was 11 years old. "The signature is my dad's name in the same script as Chuck Taylor's name," he says.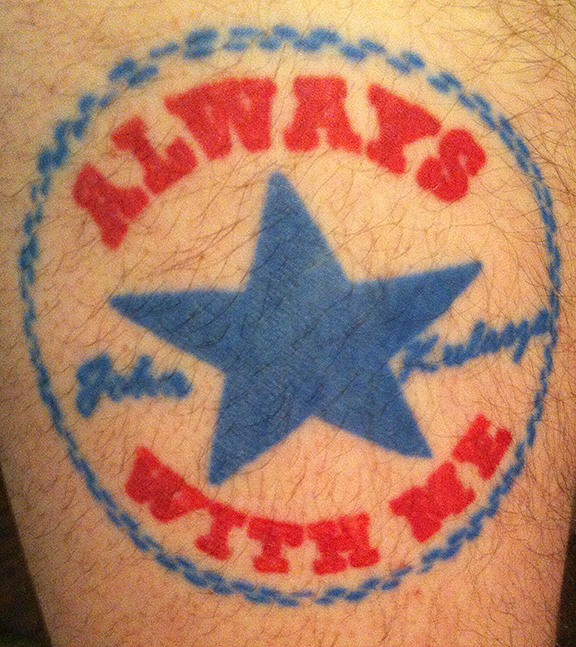 Courtesy Tyler Kulasza
"I've loved the Michigan helmet since I was a kid," Frank Ward says. Not sure what I like best about his tattoo -- the helmet bursting through a hole in his arm or the claw scratch-style lettering for the team name.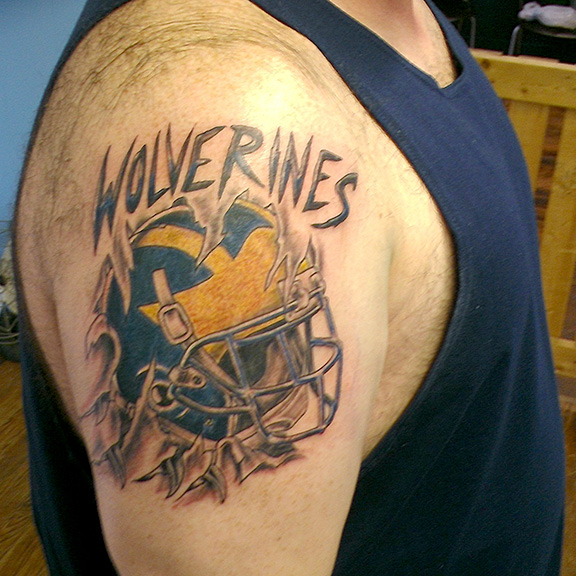 Courtesy Frank Ward
KC Spangle played football and rugby -- an unusual combination. So he decided to intermingle the logos of his two favorite teams: the Indianapolis Colts' horseshoe and the fern leaf worn by the New Zealand All Blacks.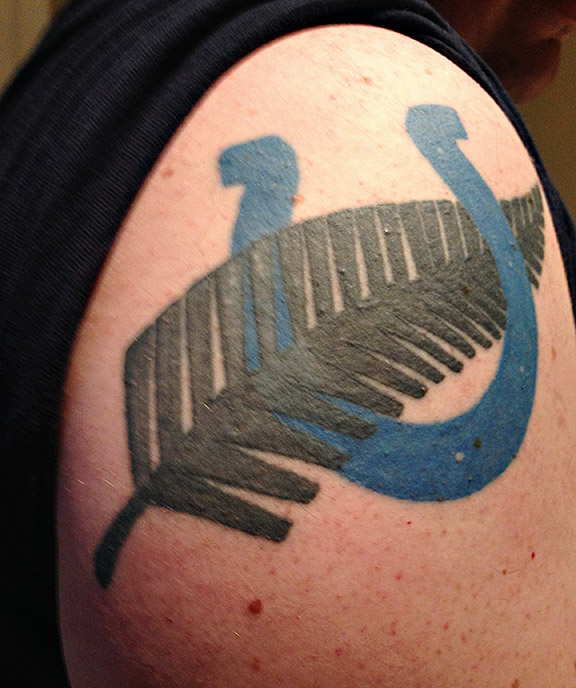 Courtesy of KC Spangle
Why just have a team logo on your arm when you can make the logo look like it's been chiseled into granite and then became cracked and weathered with age? That's the approach Joseph Grimaldo took with his Broncos tat.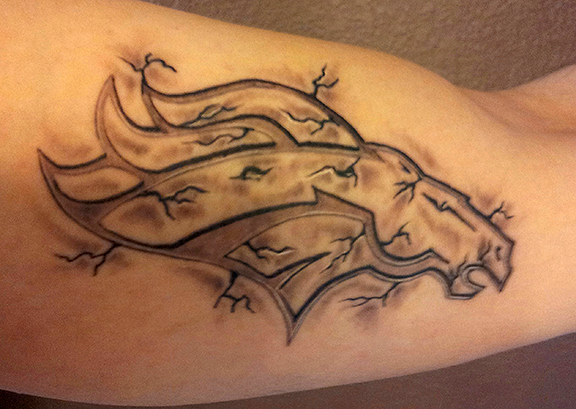 Courtesy Joseph Grimaldo
---
Can't get enough? You can see more than 100 more team logo tattoos in the following slideshow (and you can see who each tattoo belongs to by mousing over the thumbnails
here
):
Paul Lukas wonders if anyone ever got a tattoo of the Devil Rays' rainbow-toned logo. If you liked this column, you'll probably like his Uni Watch Blog, plus you can follow him on Twitter and Facebook. Want to learn about his Uni Watch Membership Program, be added to his mailing list so you'll always know when a new column has been posted or just ask him a question? Contact him here.