The Scripps National Spelling Bee is one of the most stressful competitions in the world, with contestants living in fear of hearing the dreaded bell that signifies a misspelled word. Winning it all, then, is a massive accomplishment, a fact that these kids rarely try to hide.
They can be overjoyed, like 1999 winner Nupur Lala (logorrhea: an excessive and often uncontrollable flow of words) ...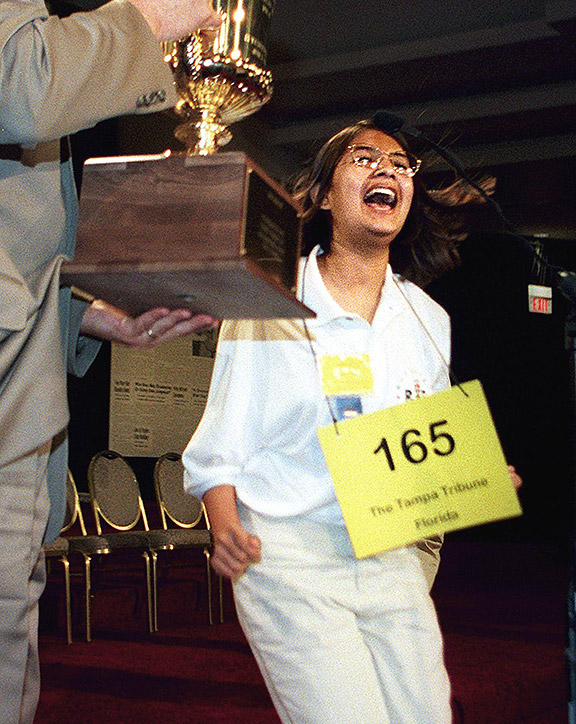 Mario Tama/AFP/Getty Images
... or 2005 champion Anurag Kashyap (appoggiatura: a type of musical ornament, falling on the beat, which often creates a suspension and subtracts for itself half the time value of the principal note that follows).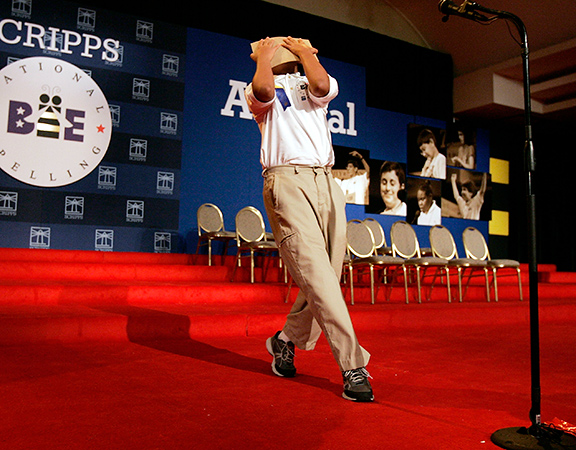 Mark Wilson/Getty Images
They can rejoice with family, like Wendy Guey in 1996 (vivisepulture: the practice of burying someone alive) ...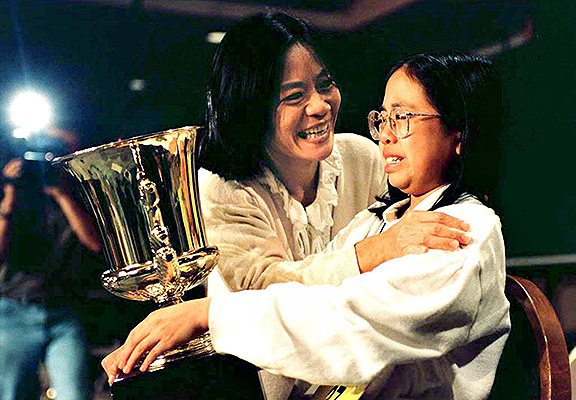 Travis Heying/AFP/Getty Images
... or 1998 champion Jody-Anne Maxwell (chiaroscurist: a painter who uses light and shade rather than color to create the illusion of volume) ...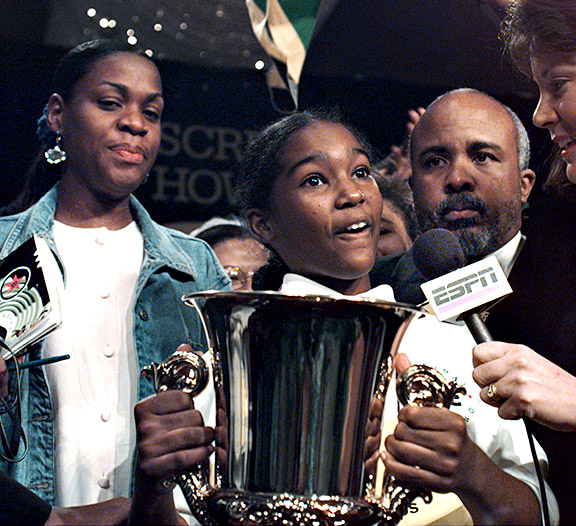 AP Photo/Ron Edmonds
... or 2009's Kavya Shivashankar (Laodicean: lukewarm, neither hot nor cold) ...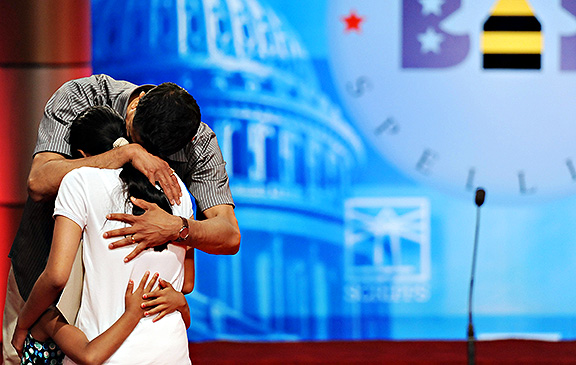 Jewel Samad/AFP/Getty Images
... or Evan O'Dorney in 2007 (serrefine: small forceps used for clamping an artery).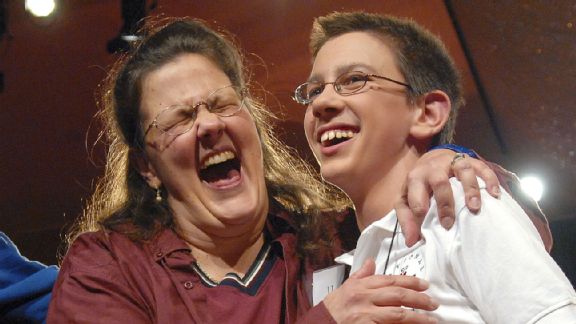 Tom Williams/Roll Call/Getty Images
They can react with disbelief, like 2008 winner Sameer Mishra (guerdon: A reward, prize or recompense for a service; an accolade) ...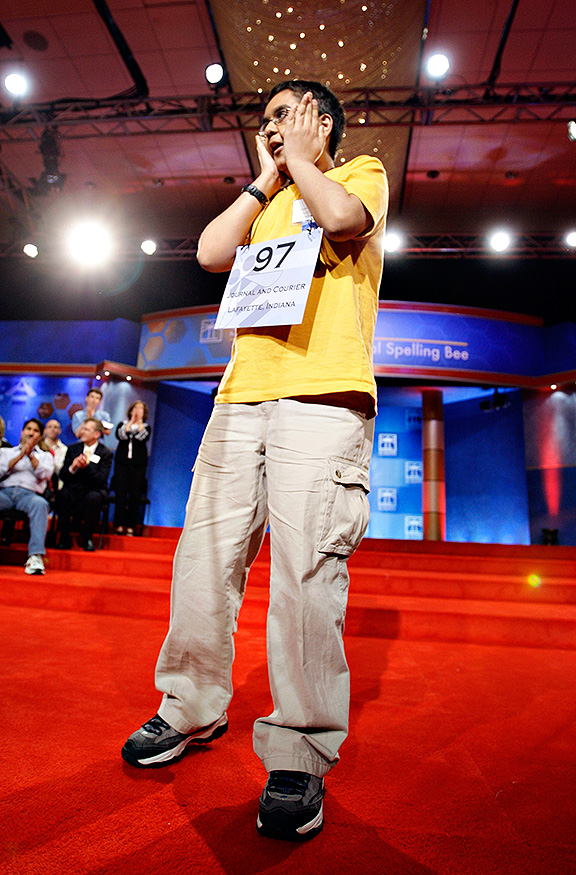 Chuck Kennedy/Getty Images
... or they can act like they had it all along, like 2002 winner Pratyush Buddiga (prospicience: foresight).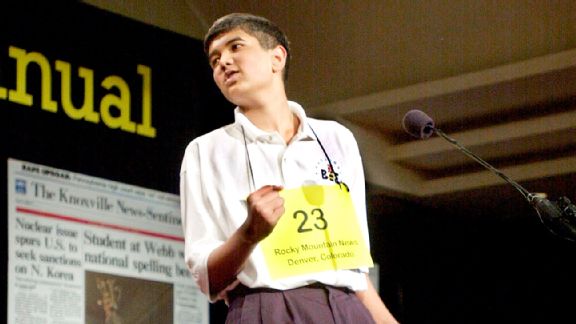 Shawn Thew/Getty Images
They can take it all in stride, like Arvind Mahankali did last year (knaidel: a type of dumpling eaten at Passover) ...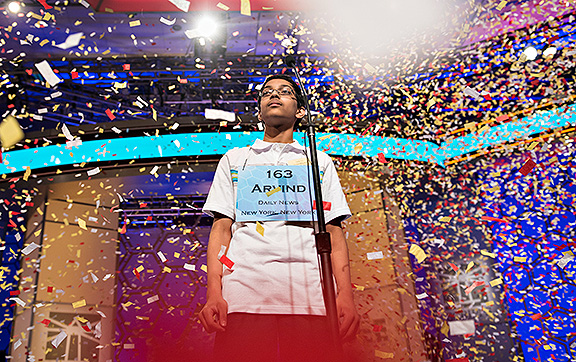 Brendan Smialowski/AFP/Getty Images
... or they can do what Rebecca Sealfon (euonym: a name well suited to a person, place or thing so named) did in 1997:
... and become a legend.