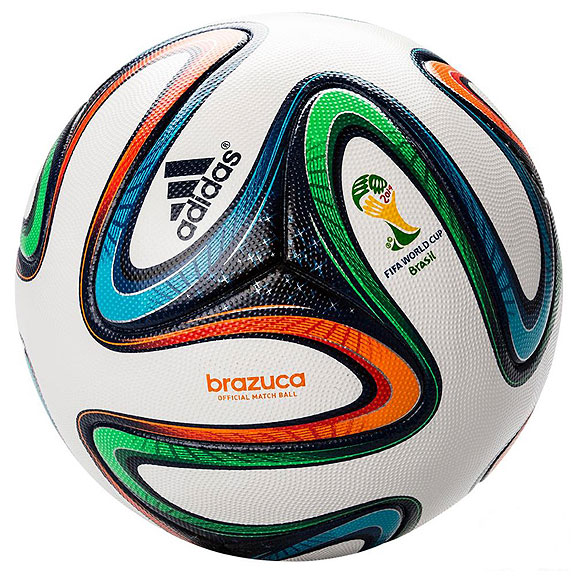 adidas
A baseball looks like, you know, a baseball. And a football looks like a football. And a hockey puck looks like a hockey puck.
But a soccer ball? It depends on which league you're playing in, or what year it is. In the World Cup alone, there have been 20 different ball designs over the years (here's a closer look at the last dozen of them). The last one -- the Jabulani, used for the 2010 World Cup in South Africa -- was highly controversial, because the players said it didn't fly or bounce like a normal ball. Those problems have supposedly been corrected with this year's ball, the Brazuca.
But why should adidas' designers get to have all the fun? Just as we've periodically invited Uni Watch readers to redesign a team's uniforms, let's redesign the World Cup ball.
Obviously, we don't expect you to engage in high-tech engineering tests to see how your ball design will fly through the air. But you can at least come up with a good exterior design and a cool name, right? We'll feature the best designs in an upcoming Uni Watch column.
Here are the rules:
• Your entry must include a ball design, a ball name and a short description of your design concept.
• If you have the design chops to show how the various panels of your ball will fit together, definitely show that. But if you can show only the exterior design, that's fine too.
• Your designs can be created in any digital or analog medium (Illustrator, Photoshop, crayon, whatever) and can be submitted in any standard digital format (JPG, PDF, tiff, etc.).
• You can enter as often as you like.
• Email your entries here.
• Deadline: Thursday, June 12, 7 p.m. ET.