Before Monday, few non-soccer die-hards knew John Brooks' name. Now he's an American hero, having scored the winning goal for the United States in the 86th minute of a 2-1 victory over Ghana.
Here are some things you should know about the 21-year-old who put Team USA in an unexpectedly strong position to reach the knockout stage of the 2014 World Cup:
Brooks has never lived in the U.S.
Brooks, also known as John Anthony Brooks, was born in Berlin while his father, Chicago native John Brooks Sr., was stationed in the German capital as a member of the U.S. military. Brooks grew up in the city, playing in the youth academy for Hertha BSC and later signing a professional contract with the club.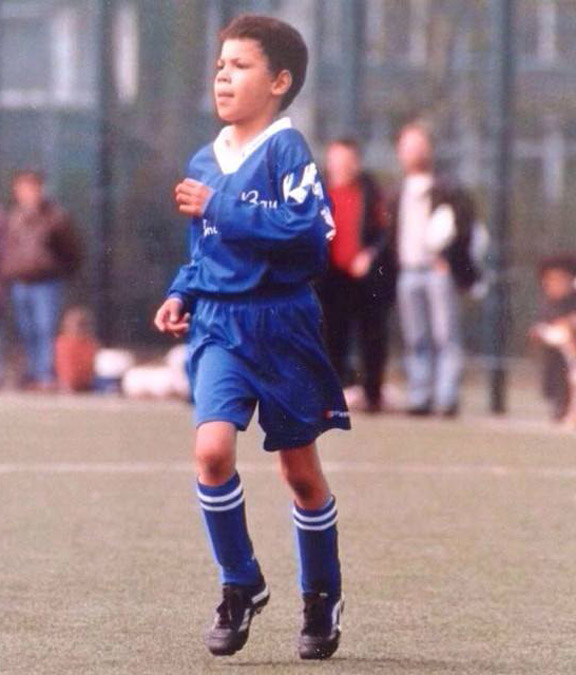 Facebook/John Brooks
Here's Brooks talking glowingly about his family, his dog and his love for what the Germans call "fussball." Note the accent -- he's definitely not from Los Angeles or NYC:
Brooks is quite happy to be playing for USA
Because of his American father, the 6-foot-3 central defender had a choice of national teams. He spent some time with both Germany and the U.S. in his younger years, but always preferred America.
"The United States is still my first choice," Brooks told The New York Times in 2012. "Playing for the German team was OK but America was a lot better."
This past August, Brooks made his senior-team debut with the U.S. in a friendly vs. Bosnia-Herzegovina. Team USA won 4-3.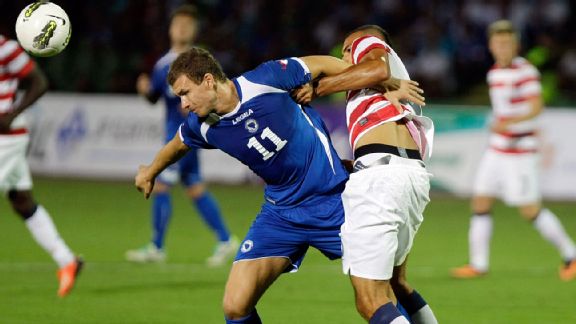 AP Photo/Amel Emric
Brooks once reportedly was benched for a tattoo ...
No, Hertha manager Jos Luhukay isn't anti-ink. He simply had no choice, reportedly, as Brooks' large back tattoo was so fresh when his team was set to take on Bayer Leverkusen this past April that Brooks had to sit out for fear that sweat and rubbing against the jersey would irritate the skin.
"I don't have any understanding for that," Luhukay told Berliner Morgenpost. "The tattoo could lead to an inflammation, and, naturally, that is not good."
... but not these tattoos
Brooks has a tattoo on each arm: one for his dad's hometown, and the other his own. Here they are, via Men in Blazers: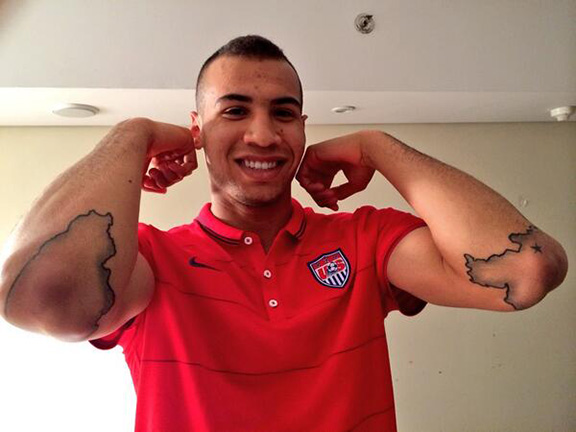 Courtesy Men in Blazers
Brooks could join the Premier League
Transfer rumors should always be taken with a huge bag of salt. Still, reports from the U.K. say the likes of Everton (where U.S. goalkeeper Tim Howard plays), Aston Villa (U.S. goalkeeper Brad Guzan), Stoke City (U.S. defender/midfielder Geoff Cameron), West Ham and Newcastle are interested.
Brooks barely made the U.S. World Cup squad
Take it away, Ian Darke and Taylor Twellman: