Theodore Roosevelt pops up on practically every coolest presidents list, and with good reason. A committed practitioner of the so-called "strenuous life," he boxed, hunted, soldiered and literally carried a big stick by mastering a strange form of dueling known as singlestick. A very committed heckler shot him during a campaign speech, but he refused medical attention and spoke for an hour and a half.
With all that said, it's no surprise that a fan dressed up as Roosevelt became an Internet sensation during Sunday's 2-2 Team USA tie against Portugal:
That's Mike D'Amico of Chicago, who dressed as Roosevelt because he thought it would get people fired up for the game. Seeing as he led both the "I Believe" chant and the U.S. supporters' march to the stadium, we think he succeeded.
Honestly, it doesn't matter all that much who ends up winning this World Cup -- Teddy Goalsevelt is our champion.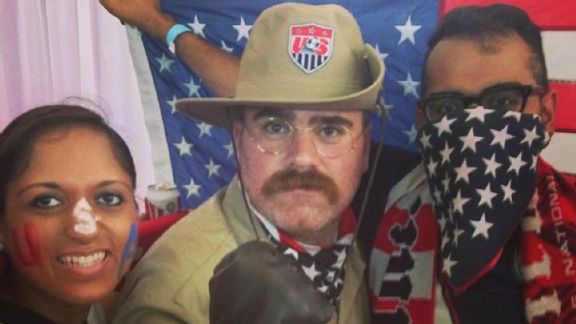 Courtesy Dheerja Kaur