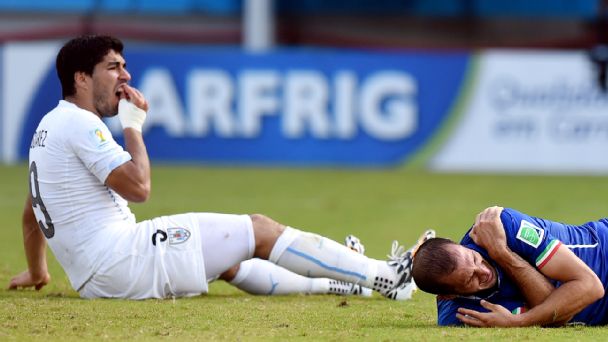 JAVIER SORIANO/AFP/Getty Images
Luis Suarez in trouble again?
Luis Suarez is one of the best players in the world. He's also one of the most controversial. Just a few days after his two goals sank England in the World Cup, the Uruguayan striker found himself embroiled in another dispute, one that is overshadowing his country's 1-0 win over Italy and its advancement to the knockout stage. In the second half, shortly before Diego Godin scored, Suarez appeared to bite Italy defender Giorgio Chiellini -- something he has done twice prior (he has served two suspensions, one in the Netherlands and one in England, for the incidents). It's possible Suarez has played his last game in this World Cup, depending how FIFA addresses the situation. Should his punishment run into whichever professional league he plays in next season?