Uruguay advanced to the knockout round with a dramatic 1-0 win over Italy, but all anyone can talk about is Luis Suarez's rogue teeth.
Suarez appeared to bite Italy's Giorgio Chiellini in the 79th minute of the match, the third time in his career he's been involved in such a controversy. Take a look at the aftermath: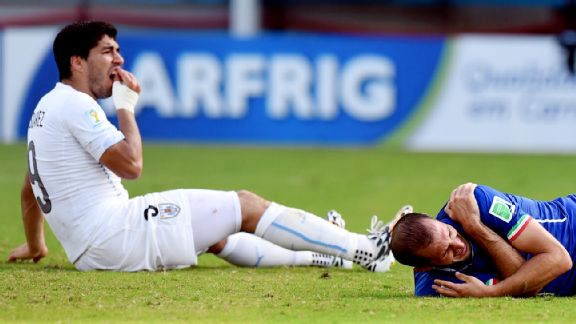 Javier Soriano/AFP/Getty ImagesLuis Suarez, left, checks his tooth after allegedly biting Giorgio Chiellini.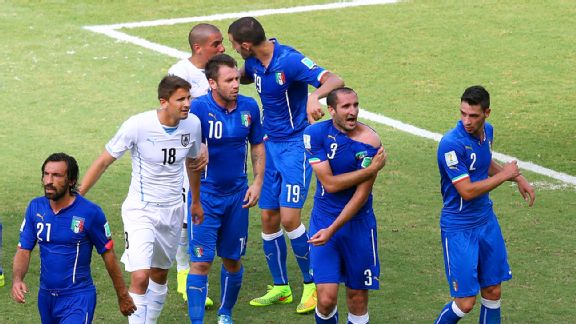 Julian Finney/Getty ImagesGiorgio Chiellini (3) tries to show the match official his allegedly bitten shoulder.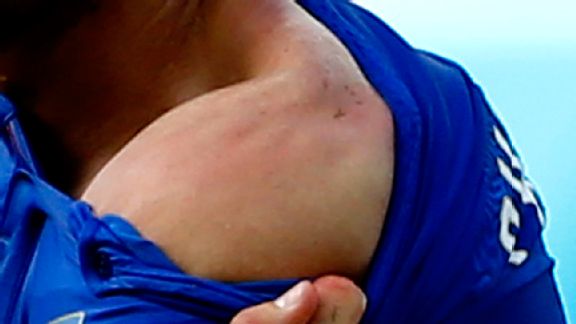 Tony Gentile/ReutersA close-up of Giorgio Chiellini's shoulder, which Luis Suarez allegedly bit.
Though Suarez didn't receive any penalty during the match, Twitter wasn't so easy on him.
Some suggested a bit of extra equipment for Suarez in his next game (whenever that is):
The harshest FIFA punishment of Suarez? pic.twitter.com/chNy1nLuXI

— Don Van Natta Jr. (@DVNJr) June 24, 2014
Others expressed disbelief that Suarez pulled a stunt like this on the world's biggest stage:
Oh, like you've never bitten three different people in front of millions of witnesses http://t.co/hLkVHDXDCA

— Bruce Arthur (@bruce_arthur) June 24, 2014
Many users theorized that Suarez might have escaped from the set of "The Walking Dead":
@SportsNation #SNPhotoGame He made it on the walking dead. pic.twitter.com/XU1u0OpMKq

— A Wes (@alecwes) June 24, 2014
U.S. Soccer's Sydney Leroux thought that Suarez's alter ego might be a certain cannibal psychiatrist:
Suarez next match: pic.twitter.com/HolsshOT6x

— Sydney Leroux (@sydneyleroux) June 24, 2014
One user suggested that Suarez was playing the wrong game:
It was really a promo for Luis Suarez's new children's game. pic.twitter.com/w6JJddj5zx

— Pierre The Pelican (@PelicanPierre) June 24, 2014
SportNations's Twitter counterparts compared Suarez to a vampire -- but not a cool vampire like, say, Blade or Dracula:
Team Edward? Team Jacob? nah... TEAM SUAREZ. #SNPhotoGame pic.twitter.com/wuXcqJ7RC9

— SportsNation (@SportsNation) June 24, 2014
If you're going to take on Suarez, you might need a bigger boat:
@SportsNation #SNPhotoGame Jaws: World Cup pic.twitter.com/zXji0jN2iX

— Colin McNulty (@cMcNutty_19) June 24, 2014
McDonald's of Uruguay offered Suarez a more appetizing meal (Translation: "Hi, Luis Suarez. If you are still hungry, come take a bite out of a Big Mac."):
Hola @luis16suarez, si te quedaste con hambre vení a darle un mordisco a una BigMac ;)

— McDonald's Uruguay (@McDonalds_Uy) June 24, 2014
This poor user who happened to share Suarez's last name implored people to stop angrily tweeting at him (Translation: "I'm not Luis Suarez! There are many Suarez in the world. I'm not Luis Suarez, please!"):
NO SOY LUIS SUAREZ, HAY MUCHOS SUAREZ EN EL MUNDO, NO SOY LUIS SUAREZ POR FAVOR

— Diego Suarez (@Suarez) June 24, 2014
Finally, some words of wisdom from a man who has first-ear experience with an opponent snacking on him:
I guess any part of the body is up for eating.

— Evander Holyfield (@holyfield) June 24, 2014
More SportsNation: How should Luis Suarez be punished?