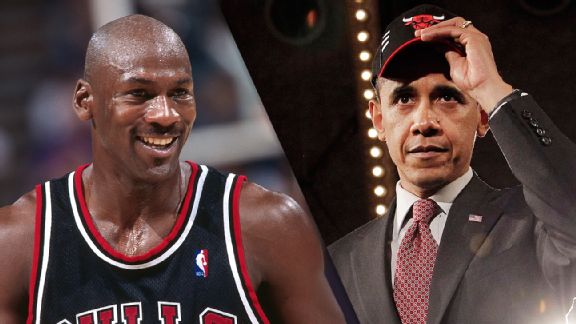 Getty Images, AP Photo
In a piece on David Axelrod, former chief strategist to President Barack Obama, New York magazine unearthed an absolute gem of a story regarding the president, one of his basketball idols, and a little bit of a spelling error:
In the front hall is a glass-encased ballot box from the Florida 2000 presidential election. There's also a napkin signed by JFK, a letter from the newly elected Abraham Lincoln to the Chicago mayor's son, and a signed poster of Michael Jordan. "When the president turned 50, I wanted to get him something special ... so I sent it to Jordan to have him sign it for me." In black Sharpie, Jordan scrawled, "To Barrack: you still owe me dinner. Wishing you well, Michael Jordan."
"I gave it to the president, and he said, "I can't put this up, he misspelled my name!' So I said, 'Fine, I'll take it.'"
Given that Obama is quite famously a Chicago sports enthusiast -- who lived in the city during the Bulls' run of six NBA championships, no less -- that had to burn a bit. Still, one wonders whether he should have kept the poster around.
As for MJ . . . we're not sure why it happened. But let's just say we hope that when the Hornets' owner signed the checks for recent Charlotte players like DeSagana Diop and Joel Przybilla, he didn't also have to write out their names.
Check out the full New York piece here.