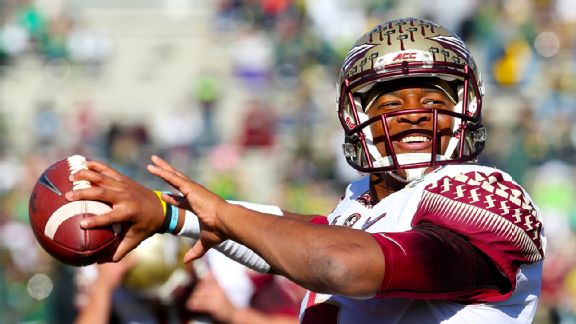 Stephen Dunn/Getty Images
There's a lot for teams to consider when deciding whether to draft Jameis Winston -- his off-field issues, his strong arm, his quick decision-making ability -- but ESPN Stats & Information flagged one thing many fans might not know: Winston has unusually small hands for a quarterback.
Winston's hands reportedly measured 9 3/8 inches at the NFL combine. That would make him a rarity among NFL quarterbacks. Out of the 61 QBs who've started a game since 2006, only 14 have had hands 9 3/8 inches or smaller. Twelve of those quarterbacks have started two or more games, and the results, with one notable exception, are not pretty.
So far, Colin Kaepernick has been the only small-handed quarterback since 2006 with a winning record, and of the remaining 11, only Teddy Bridgewater is even at .500. It's too early to tell with Bridgewater, and Blake Bortles can't be entirely faulted for the Jaguars' struggles, but in general, when a quarterback has small hands, he has tended not to win games.
There's no guarantee that Winston will be a bust on the level of many of these quarterbacks, but it certainly doesn't look great for the former Florida State QB. We'll have to wait until the draft to see if teams are that worried about Winston's hands.