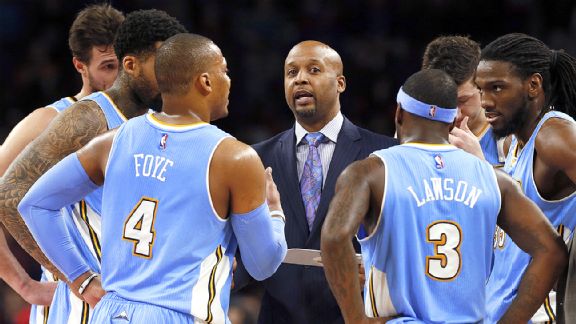 AP Photo/Paul SancyaBrian Shaw's reputation as a players' coach didn't translate in Denver.
Things are not good with the Denver Nuggets.
Two years removed from a 57-win season -- after which they dismissed coach George Karl and replaced him with Brian Shaw -- the Nuggets entered Sunday with a 20-38 record, meaning the playoffs are simply not happening.
Apparently the players know it. According to this nugget (sorry) from The Denver Post, a chant could be heard at one point during Denver's 104-82 loss at home Friday night to the not-exactly-a-powerhouse Utah Jazz:
"1-2-3 ... six weeks!"
... as in, six weeks until the season is over.
As The Post's Christopher Dempsey points out, this is reminiscent of a 1998 moment in which then-Los Angeles Lakers guard Nick Van Exel, joking (he says) about his team's impending Western Conference finals exit against (coincidentally) the Jazz, chanted in practice, "1-2-3 ... Cancun!" (Even more coincidentally, Van Exel the next season joined the Nuggets.)
This is the latest in a line of issues for Denver this season, with players' effort questioned by Shaw and Shaw's coaching questioned by at least one player.
Still, with 24 games left in a lame-duck season, it's hard to completely fault players for just wanting everything to be over.
Or is it?