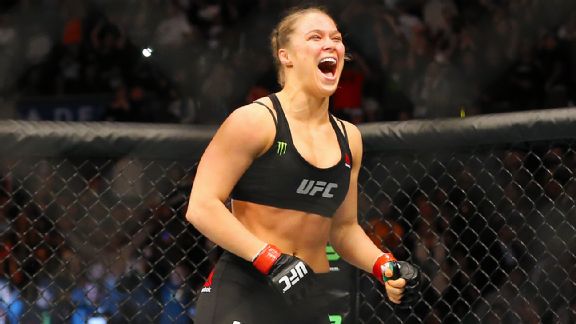 Ed Mulholland for ESPN
Ronda Rousey has spent barely any time in the cage in her last two UFC fights, dispensing with Alexis Davis and Cat Zingano in a combined total of 30 seconds. She's won every MMA fight she has ever faced in the women's division, and the number of opponents who could reasonably take her on seems to be dwindling. It's gotten to the point where sports betting website Bovada is setting 25-1 odds on Rousey to fight a male opponent before the end of 2016.
UFC announcer Joe Rogan has stated that he thinks Rousey "might be able to beat 50 percent" of UFC male bantamweight fighters, while UFC president Dana White said after her win over Zingano that he's been asking himself "What do I do with this girl? I keep joking saying she is going to have to fight men, but I am serious." The odds seem against it ever happening, but if it did, we imagine it would be one of the highest-rated fights in history.