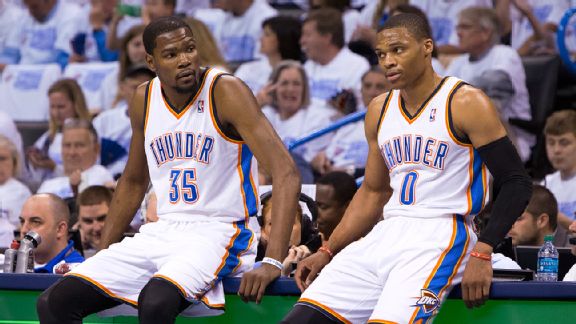 Richard Rowe/NBAE/Getty Images
Unless you've been separated from all technology for the past month, you're aware that Russell Westbrook is on an absolute tear -- five triple-doubles in six games, to be exact. But what you might not be aware of is that NBA analyst and former NBA executive Tom Penn thinks Westbrook's hot streak could have Oklahoma City Thunder management thinking about moving Durant next season:
"I think this burst from Westbrook makes it much more likely that Durant ultimately gets traded next year. ... Sam Presti has proven that he does not ever want to lose anybody for nothing. So he traded James Harden a year early to avoid a potential luxury tax problem a year later.
"The Kevin Durant drumbeat next year is going to be so loud because he will not commit early to Oklahoma City contractually because the rules are against that. He can't get the same contract if he signs early as if he just goes to free agency and resigns.
So if Sam Presti doesn't get that commitment, he'll look to to trade Kevin Durant. And looking at the performance of Westbrook and the team around Westbrook will make it easier for him to do that potentially."
Click here to listen to Penn's full appearance on "The Herd with Colin Cowherd."