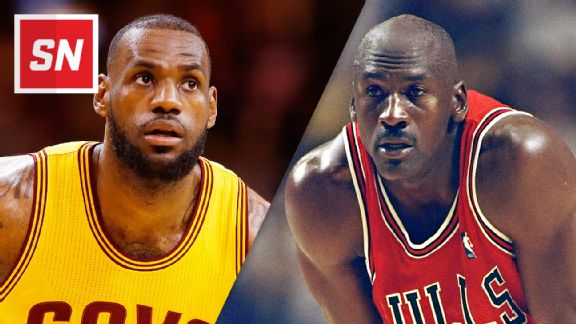 Getty Images
Ah, the Michael Jordan versus [insert modern star here] debate. As much as many (most?) people might like to see it retired, or at least diminished, it's not going away anytime soon.
Case-in-point: Kendrick Perkins and J.R. Smith, Cleveland Cavaliers players fresh off watching LeBron James' gutsy performance in a Game 3 overtime win over the Atlanta Hawks, brought up MJ in the context of their four-time-MVP, two-time-champion teammate.
Perkins, as told to Northeast Ohio Media Group: "The only thing that he's missing is a couple more championships, and then it's a wrap. Right now, we have arguably the best player to ever play the game. I'm just saying, man. I'm not taking anything away from Jordan, but all [James is] missing is titles. A couple of more titles, and that's it."
And Smith, as told to the same publication: "That's one hell of a debate. Honestly, in my opinion, if it's not Jordan, then it's him. It used to be no question. It was a landslide. It was Jordan. Now, you have to consider my boy."
Smith's comments are more measured; if you don't consider James one of the greatest players of all time, you're just a hater.
But Perkins? He's kind of, sort of saying LeBron is better ... if only he had Jordan's six rings.
Some might channel Jason Segel and respond that six rings is THE ONLY ARGUMENT I NEED, KENDRICK!
We prefer a more nuanced view, though nearly every unit of measurement favors MJ as No. 1.
Still, there's time left in LeBron's career, so you never know ...