By
Andrew Lovell
| ESPN.com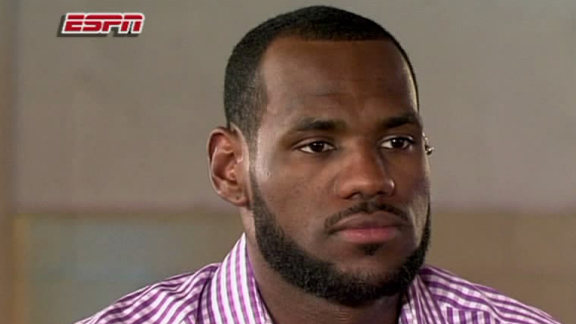 On July 8, 2010, LeBron James announced he was leaving the Cleveland Cavaliers to join the Miami Heat as a free agent, simultaneously gut-punching the city of Cleveland by doing so on a 75-minute TV special infamously dubbed "The Decision."
He returned to Cleveland last offseason, but James remains the highest-profile player to leave his team for greener pastures. But he wasn't the first, and as this offseason has showed, he certainly won't be the last. Now seems like as good a time as any to revisit some of the more memorable NBA breakups:
Pat Riley (Knicks to Heat, 1995)
Riley's stay in New York was short (four seasons) and disappointing (one Finals appearance) considering his résumé and the Knicks' talent. But the parting was ugly -- Riley resigned via fax and left to take over as coach and president in Miami amid allegations of tampering. The Heat sent a first-round pick and $1 million to the Knicks, but Miami quickly became a contender under Riley. The two teams would meet four straight years in the playoffs.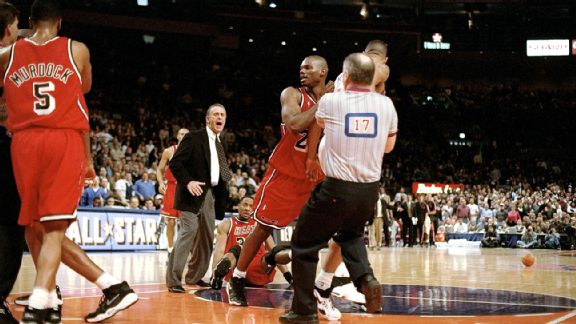 Keith Torrie/NY Daily News Archive/Getty Images
Shaquille O'Neal (Magic to Lakers, 1996)
This one still hurts in Orlando. O'Neal, the No. 1 draft pick in 1992 and the driving force behind a Finals run in 1995, left after just four seasons to sign a seven-year, $121 million deal in Los Angeles. Playing varying roles in his decision were reported tension with then-coach Brian Hill and guard Penny Hardaway, a highly publicized Orlando Sentinel poll to which O'Neal took exception, and opportunities in the entertainment world. But the bottom line is this: O'Neal went on to win four titles (one with Miami), while Orlando has made just one Finals trip since.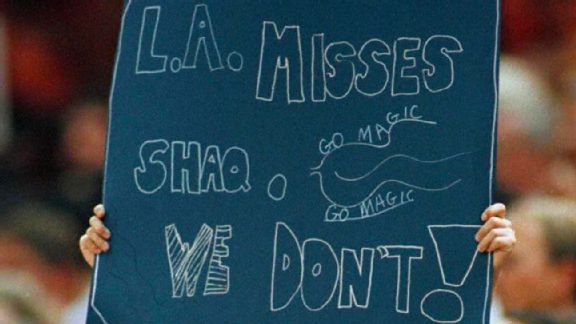 Tony Ranze 150708 - Index
SuperSonics (Seattle to Oklahoma City, 2008)
Although technically the franchise did relocate, fans in Seattle hold nothing but love for the Sonics. It's the man who moved them to Oklahoma City, Clay Bennett, who draws the ire. Bennett is the chairman of the group that bought the team from Howard Schultz in 2006. Schultz thought Bennett & Co. intended to keep the team in Seattle. Two years later, the Sonics became the Thunder, taking with them second-year standout Kevin Durant.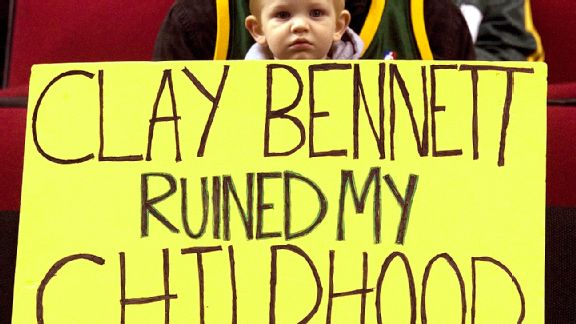 AP Images/Don Ryan
Ray Allen (Celtics to Heat, 2012)
The all-time leader in 3-pointers was revered in Boston after he teamed up with Kevin Garnett and Paul Pierce for a title run in 2008. But he was grilled -- by players and fans alike -- for leaving as a free agent to join the hated Heat. Side note: Miami is a popular destination.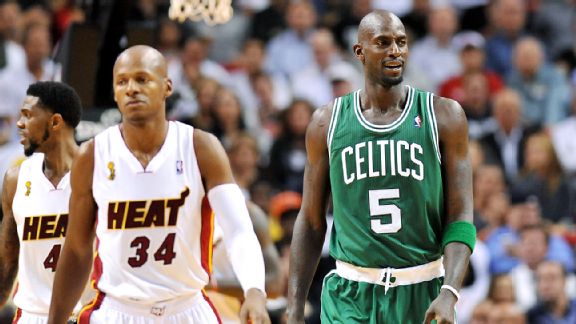 Steve Mitchell/USA TODAY Sports
Dwight Howard (Lakers to Rockets, 2013)
Magic fans also have a gripe here. Despite six All-Star appearances, three Defensive Player of the Year Awards and one Finals berth, Howard's Orlando stay came to an ignoble end, complete with trade requests and the firing of coach Stan Van Gundy. Howard was eventually dealt to the Lakers, where he clashed with Kobe Bryant, struggled to assert himself on the court and then left after one season to sign with the Rockets. Los Angeles has won a total of 48 games in the two seasons since Howard bolted.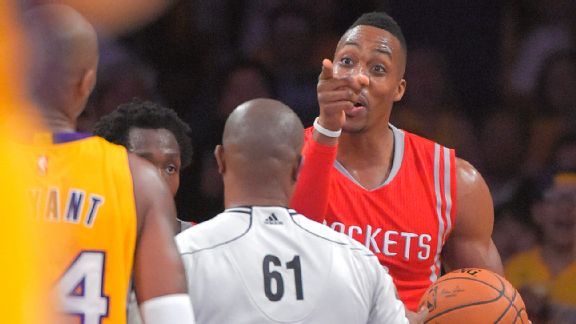 AP Photo/Mark J. TerrillAs the departure of Dwight Howard showed, attracting and keeping stars alongside Kobe proved problematic.