Michael Jordan, of course, is a Chicago Bulls legend.
Jimmy Butler isn't one -- yet -- but he's an All-Star and, arguably, the new face of the franchise.
So what better idea than to have the two of them face off in a shootout at Michael Jordan's Flight School basketball camp in Santa Barbara, California, with a little help from a pair of young ballers?
Spoiler: MJ hits a J at the buzzer: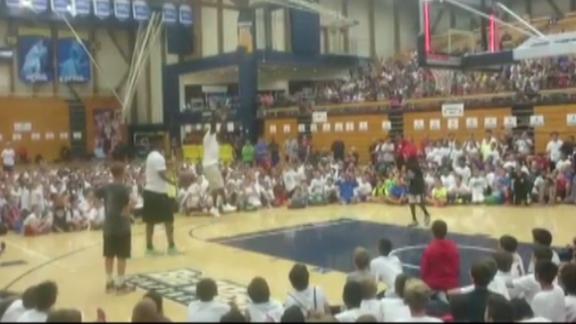 Now, we're not sure who won. It appears His Airness & Co. came out victorious, and with the stroke Jordan still has at age 52, this isn't a shocker.
Butler, to the surprise of no one, showed respect to the greatest ever to play his sport.
Don't think Jordan is the greatest? Take it up with Butler; "la cabra" is Spanish for "the goat."
H/T The Big Lead.