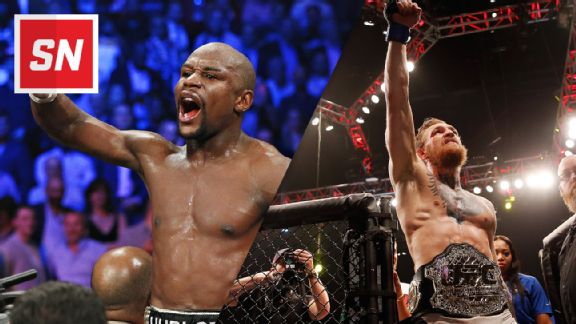 Getty Image, AP Photo
Floyd Mayweather might be unbeaten, but a pair of famous UFC fighters think they could take him in mixed martial arts.
Women's bantamweight champion/biggest star in the sport Ronda Rousey on Monday said she'd beat Mayweather in a no-rules fight.
Interim featherweight champion Conor McGregor agrees, and thinks he'd win too.
"Yeah, [he would beat me in boxing]. But in a real fight I would dismantle him in seconds. Ronda would dismantle him in seconds -- 100 percent. When you don't know how to grapple you don't stand a chance. For us, it's like playing with a baby. People who don't understand the sport cannot understand how vulnerable they are. There are always clinches, and Ronda is a judo Olympian. She would throw Floyd on his head in a second. Me? I would knock him out. Cold."
Read more about McGregor, perhaps UFC's most famous male fighter, in The Guardian.