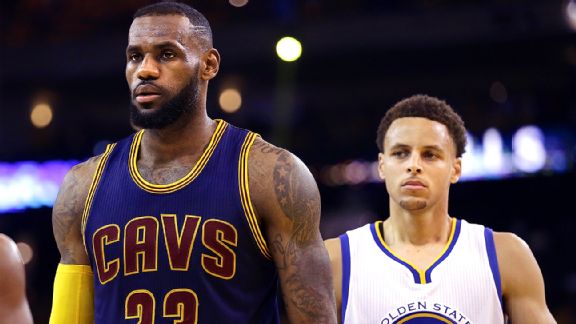 AP Photo/Ben Margot
Recently we brought you the top 10 players, as rated by the latest "NBA 2K" game.
The ratings for "NBA Live 16" also are here -- and they're quite a bit different.
Here's the top 10 (and ties):
1. LeBron James (97)
2. Kevin Durant (96)
T-3. Anthony Davis (95)
T-3. Marc Gasol (95)
T-3. Blake Griffin (95)
T-3. James Harden (95)
T-3. Chris Paul (95)
T-8. LaMarcus Aldridge (94)
T-8. DeMarcus Cousins (94)
T-8. Stephen Curry (94)
T-8. Russell Westbrook (94)
That's right: LeBron James (no surprise) is No. 1, 2014 NBA MVP Kevin Durant is No. 2, and a handful of talented stars across positions come in tied for third.
Meanwhile, the reigning NBA MVP is tied for eighth -- definitely an eye-opening number for a player many consider the best in the league. Then again, perhaps "NBA Live" is drawing upon more than just last season for its ratings; few before 2014-15 had Curry in that top-player-overall conversation.