AP Photo/John Swart
Shortly after Sunday night became Monday morning in Queens, the Kansas City Royals outlasted the New York Mets 7-2 in extra innings to win their first World Series in 30 years.
They did it with exactly the kind of stunning, late-game heroics they've somehow made routine, and for years to come, Kansas City fans will always have 2015.
Just like 1985, the most recent year the Royals hoisted the Commissioner's Trophy.
Don't take Bowling For Soup's word for it. Here's what the world was like in sports and pop culture in 1985.
• The Royals beat the St. Louis Cardinals in Game 7 on Oct. 27, 1985, the same day the Yankees fired manager Billy Martin for the fourth time. The 300th day of the year also saw Grete Waitz win the 15th NYC Women's Marathon, while Orlando Pizzolato won the men's race.
• Elsewhere in the Midwest, the Chicago Bears pummeled the Minnesota Vikings 27-9 at Soldier Field to move to 8-0. They'd finish the regular season 15-1 before cruising through the playoffs to a Super Bowl title.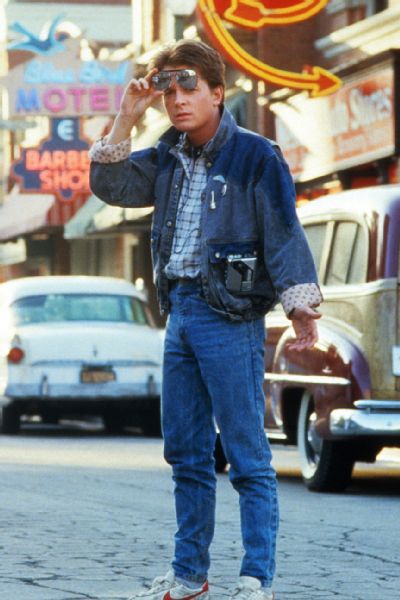 Universal/Getty Images
• The No. 1 song in America was "Part-Time Lover" by Stevie Wonder, and it's just as smooth and sensual as you remember. "Take On Me" by a-ha was also burning up the charts. Who knows when the Royals will win another World Series, but when they do, do you think anyone will write a remembrance piece on "Hotline Bling"?
• The No. 1 movie in America was "Jagged Edge," starring Glenn Close and Jeff Bridges. The crime/mystery thriller didn't rule the box office for long, though. It couldn't keep pace with "Back To The Future" and "The Goonies," the No. 1 and No. 2 highest grossing movies of 1985, respectively. The 1985 Academy Award for Best Picture was won by "Out of Africa."
• It cost about $1.20 per gallon to gas up your Camaro.
• The hottest toy on the market was the Nintendo Entertainment System, which launched as a home video-game console in the United States on Oct. 18. It would be another three years or so before you could play "Major League Baseball" (complete with real MLB teams!) on your NES.
• A new comic strip called "Calvin and Hobbes" was less than a month from debuting in 35 newspapers across the United States.
• Finally, even though it wouldn't come out for another year, "Ferris Bueller's Day Off" featured a game between the Braves and Cubs on June 5, 1985, at Wrigley Field.
Ferris was right: Life moves pretty fast.