WHITE PLAINS, N.Y. -- How's this for surreal?
Floyd Mayweather sat courtside for Jimmer Fredette's D-League debut on Monday with the Westchester Knicks.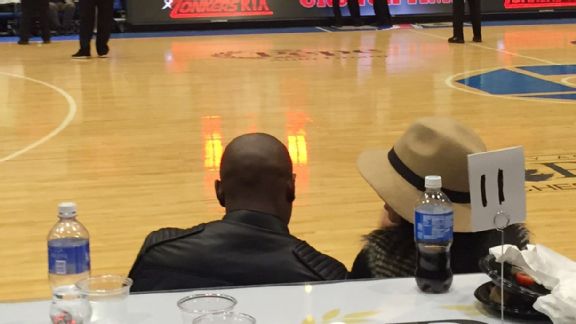 Ian Begley/ESPN
Surrounded by what had to be the biggest entourage in D-League history, Mayweather ate popcorn, drank soda and doled out advice to Fredette from his seat near midcourt.
"He just kept telling me to shoot it," Fredette said. "And I was like, 'All right, I'll shoot it.'"
Fredette ended up with a game-high 37 points on 12-for-17 shooting in Westchester's win over the Grand Rapids Drive.
Mayweather liked what he saw from Fredette, but he attended the game at the 2,000-seat Westchester County Center to support guard Jordon Crawford.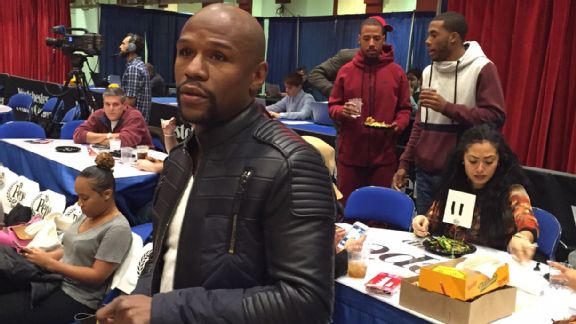 Ian Begley/ESPN
Mayweather told ESPN.com that he flew in from Las Vegas on his private jet that morning to make it to Crawford's game.
"He's my mentor," said Crawford, a 5-foot-6 guard from Bowling Green. "He's like family."
At halftime, Mayweather took pictures with fans and signed autographs. He also took some time to praise Crawford, who went scoreless on Monday but had three steals in 15 minutes.
"The Lakers could really use some help. Not taking anything away from any players, but Philadelphia also really needs help. I think Philadelphia and the Lakers should take a look at Jordon Crawford," Mayweather said.
Sounds like the recently retired Mayweather might be angling for a job in Sam Hinkie's front office.
As for Fredette, the 2011 lottery pick is still looking for an NBA home. He's spent time with four teams, most recently with the New Orleans Pelicans, who released him last month.
Fredette is an NBA free agent, but Westchester owns his D-League rights. The 6-2 guard hopes that some success in the D League will lead to another opportunity.
"I know I can play in the NBA, and I can be a very good player in the NBA. I'm excited to be able to start here," he said. "Sometimes you've got to be able to go backwards in order to get back up to where you want to be."